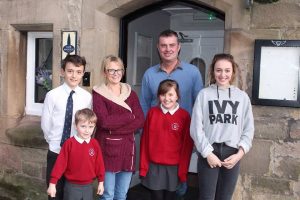 Public House – The Bulls Head, Fountain Square, Youlgrave DE45 1UR, welcome from Martin & Nicola Hill and family, 01629 636307 email bullsheadyoulgrave@gmail.com and see website www.thebullsheadyoulgrave.co.uk.
Opening hours: Mon-Thurs, 6.30pm-12 midnight, Fri 5pm-1am, Sat and Sun open all day (1am close on Sat). From Easter: Mon-Fri 12-3pm. Meals and snacks available lunchtime and evenings – please inquire for times. Full time local chef starting mid June – menu to expand!
Public House – The Farmyard Inn, Main Street, Youlgrave, DE45 1UW
01629 636221 Email and see website www.farmyardinn.co.uk
Opening Hours: Lunch 12 noon – 3pm, 5pm – 11pm (Mon-Wed), 5 – 11.30pm (Thurs), 5 – late (Fri & Sat)
Sunday open all day 12 noon – 11pm
Food available: 12 noon–3pm, 5pm–9pm
All ingredients are locally sourced. Wednesday is "Pie night", Thursday is "Curry night" and on Sunday there is a Carvery.
Accommodation: 4 Rooms all en-suite, mid week £70, weekend £80, single occupancy £60.
Points to note: Take away service may be available on request.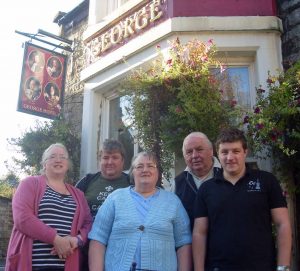 Hotel – The George Hotel, Church Street, Youlgrave DE45 1WN
Welcome from George and Sandra Marsh 01629 636292
Opening Hours: Mon-Sat 11am – 11pm, Sunday 12 noon – 10.30pm
Food Available: Mon 11am–8pm, Tues – Sat 11am–9pm, Sunday 12 noon–7.30pm
Accommodation: 3 Rooms – family room £36 pppn, £40 single occupancy. Double room £45 pppn single occupancy, single night and Twin room.
Points to note: All ingredients are locally sourced. All hand made chips, beefburgers, etc, Game always on the menu, generous portions.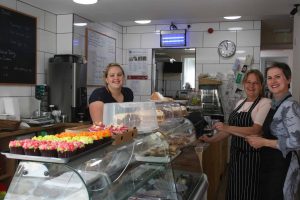 Youlgrave Village Shop & Tearooms, 26 Church Street, Youlgrave 01629 630208, Email jade@youlgrave.shop and see website www.youlgrave.shop. Jade and the team offer snacks and hot/cold takeaways (rolls, sandwiches, panninis, etc), plus an upstairs tearooms and outside courtyard seating. Shop open 8.30am-5pm (Mon, Tues, Thurs & Fri), 8.30am-1pm (Wed), 9am-5pm (Sat) and 10am-4pm (Sun). Tearoom open daily 10am-4pm daily (closed Wed).
Disclaimer: The youlgrave.org.uk website is not responsible for the content of external sites linked from this website. Therefore, the inclusion of a link to an external website from youlgrave.org.uk should not be understood to be an endorsement or recommendation of that website or the site's owners (or their products/services).