A good summer for Youlgrave Band… despite the weather!
Following the new banner first used in Buxton park, we were very well supported for the concert in the Methodist Church in May. Our new conductor embraced his challenge, everyone played with great enthusiasm and increasing skill, and the highlight was the children playing and Harry Houghton's solo. On behalf of the band and audience, I would like to give a big thank you for all the wonderful refreshments.
Over the month of the Welldressing and Carnival, we had a really busy three weeks, with Ashover Band helping to increase our marching numbers for the parades. If you have never played an instrument and marched uphill, keeping in step and formation, then for an idea of what it is like, try walking steadily, from the playing field to Coldwell End, continually watching the pavement/white line, while reading a book, counting all the time, and blowing up a balloon, letting it down and immediately blowing it up again as you are walking. (I find it easier to run up Mawstone hill!) The Weslyan Chapel service and concert, which followed Welldressing, included some well-thought and touching sermons, and it was good to see the chapel so full. Again, the young band played.
We returned Ashover's favour at the Bakewell Carnival on the 2nd, followed by our own concert in Matlock Lees Park. The sun shone while we played, although it rained before and after. Concerts at Tansley Flower Festival and Bonsall Carnival bring us up to date.
You too can keep abreast of the Band's activities on the Facebook site for Youlgrave Silver Band. If you want to listen to us our next concert is at 7pm onwards on Sunday 2 October at the Matlock Illuminations. If you would like to join us or learn contact Judith on 630202 (especially if you can play a cornet).
New conductor and banner for Band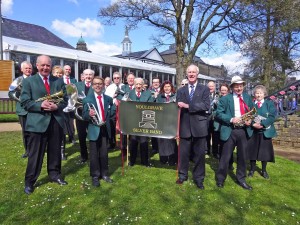 Youlgrave Silver Band played their first performance of the year at Buxton Pavilion park bandstand on Sunday 17 April. We displayed our new banner to the crowds and gave an impressive performance, despite the cold. The New Year had started with great enthusiasm, and with the unexpected profit from last year's concerts we bought some new music and stands. Our AGM was held in March and produced a change of treasurer. Unfortunately our conductor then resigned, but fortunately we are lucky enough to have Ian Wildgoose from Bakewell to take over the job, and so far it is proving to be a delightful situation. The Junior band is also progressing well and will perform their new pieces. It's conducted by Helen Mellor and led by Harry Houghton, who has just been awarded a grade 4 merit, a high exam achievement at only 10 years old.
We would love you to come to our next performance on Thursday 19 May at 7pm in the Methodist Church, Youlgrave. Refreshments (which are always so wonderful!) will be served following the music. Please come and support us and listen to our new music. And if you feel inspired to take up an instrument, or you are new to the area and already play, please join us on a Thursday evening, 7.30pm at the Methodist Church Hall in Youlgrave.
Christmas 2015 with Youlgrave Silver Band
Christmas is COMING. It's time to get excited! Adults and children come and have fun in the relaxed friendly musical Christmas atmosphere of the…
YOULGRAVE SILVER CHRISTMAS BAND CONCERT, Tuesday 1 December at 7.30pm. Special performance by the Youlgrave Band Junior section. Interval Refreshments, raffle, good cheery music. Youlgrave Village Hall, entrance £5. The first half is serious music, second half Christmas fun and carols. There's no better way to start Christmas! Why not bring your Christmas hat and bells to sing and join in with us.
Saturday 5 December, Listen to our carol playing in Bakewell from 10 am outside the Co-op.
Thursday 10 December, Early evening carols all around the village.
Thursday 17 December, Listen to us whilst doing your Sainsbury's shopping in Matlock, 6pm till 7.30pm
Youlgrave Band… also known as Pommy Band.
We play every Thursday evening At 8pm in the Methodist Chapel, Coldwell End, Youlgrave.
Conductor Paul Harding.
The nickname for the village of Youlgrave is POMMY, based on the lovely tale of this band.
About 150 years ago The village bought the very first instruments to form the new band. The players were so enthusiastic and ecstatic to receive them, that, before they had had the chance to learn to play them, they paraded up and down the village holding them and singing the tunes with a, 'pom,pom,pom.' – hence Pommy!
This enthusiasm still remains in the present players, but with more skill!
Youlgrave Silver Band has about 25 enthusiastic players and is available for events throughout the year.
Contact: the Secretary on 01629 630202.
We always welcome new members to this very friendly band.
Tuition and instruments are available.
The band has a group, which meets at 7pm each Thursday before band practice. It is aimed for those who would like to learn to play or improve their playing of a brass instrument in order to join the band. Any learners are welcome, and visiting holiday makers who play brass instruments, are also welcome to join in the practice on a Thursday.
Listen to us playing on You tube:-
Playing BLAZE AWAY
Playing GLADIATOR
Playing SING
YOULGRAVE SILVER BAND – NEWS – on Facebook
CONTACT DETAILS
Secretary –Judith Orchard – 01629 630202
juditheorchard@gmail.com
Youlgrave WI booklet of 193
Mr Marsden has supplied the following information:
'There used to be a Brass Band dating back to about the year 1860, called 'The Youlgrave Old Band. From members of this old band, it was said that a whole band could be formed, of which every player was a member of the Frost family. But regarding the present band – about 36 years ago, Mr George Fowler and Mr J. Buxton and others started to collect a fund for buying instruments for the purpose of forming a band. The required amount was raised and the band formed, with the title the Youlgrave Public Brass Band, the instruments belonging to the people of Youlgrave.
Some years afterwards the Band won a prize at a contest when the name was altered to Youlgrave Prize Band. There are several of the original members living in the village today. The Band has been under the tuition of Mr James Frost, Mr Joseph Marsden, Mr Lubin Wildgoose and Mr Mc Carthy, but of late they have had no professional conductor. The Band years ago was looked upon as the one of the best in the district."