For all the news from the village see THE BUGLE, Youlgrave's monthly community magazine.  For the latest issue click here April 2021 For previous issues see News page.
Local Boundary Commission proposed changes to remove 30 years of Independent representation
The abolition of our Lathkill and Bradford Ward to remove our Independent District representation for our Rural Communities has been proposed for the Derbyshire Dales. Youlgrave Parish Council and our neighbours have submitted official responses to keep our communities together – the proposal is for Youlgrave and Monyash to be given to Bakewell to sustain 3 party political seats and Middleton by Youlgrave and Harthill to be given to a Ward to be known as Bonsall and Winster. Over Haddon has expressed its desire to leave Bakewell and rejoin our existing Ward after 10 years away.
Council's response:  Youlgrave Parish Council Boundary Change Consultation response
Have Your Say  by 12th April direct to the Boundary Commision
Local Government Boundary Commission for England Consultation Portal (lgbce.org.uk)
Leaflet guide to local heritage
Youlgrave History Society has produced a splendid new leaflet guide to exploring the area's local heritage on foot. Following the success of their first leaflet ('Village History Trail') in 2019, the 'Wider Village Trail' is a longer walking route of about 5 miles/8 km, but there are options to shorten the route at several places. The trail explores not just the village but also points of interest in Alport, Bradford Dale and Middleton. The leaflet costs £1 and will be available locally in Peak Feast, the Post Office and the Village Shop from early December.
New Peak District pub history book by Youlgrave author
Youlgrave author Andrew McCloy has written a new book celebrating the heritage of local pubs. Peak District Pubs – a pint-sized social history traces the evolution of 'the local' from humble alehouse to modern roadhouse and along the way takes in everything from haunted pubs and theme pubs through to new community-owned pubs and micropubs. So, if you can't go in them at the moment then read about them instead! The book costs £11.99 and is available from Youlgrave Post Office or via https://gritstonecoop.co.uk/
Youlgrave Welldressing 2020
Because of coronavirus restrictions, this year's welldressings feature a series of mini boards produced by local individuals and families. They will be on show around the Fountain in the centre of the village for a week from 20th June.
Welldressing means so much to generations of people in our village, not only giving thanks for our wonderful independent water supply but also a celebration of midsummer.
There will be no formal ceremony this year, but we can all celebrate in our own way at home. Here's to Saturday 19th June 2021!
 Welcome to Youlgrave 
Youlgrave is a village in Derbyshire, England, located in the south of the Peak District a few miles from Bakewell. It sits on the hillside just above the River Bradford, near its confluence with the River Lathkill. Youlgrave is one of the largest villages within the Peak District National Park and is a thriving community that takes pride in its resourcefulness and rural character.
Due to its scenic Peak District location, Youlgrave has become a popular tourist destination. Visitors to the area are able to enjoy a range of activities including walking and cycling with tremendous sightseeing opportunities in the beautiful surrounding countryside. There are many trails to follow that suit all abilities, from novice through to the more experienced.
Visitors staying in the area have a good choice of accommodation options and there are several places serving food and drink for the long-term holidaymaker or casual day visitor to enjoy.
For those not wishing to use their own motor transport to explore the area there are local bus routes and a private hire tour service.
What's in a name?
Welcome to Pommie (or Pommy…)
The origin of Youlgrave's curious nickname has nothing to do with lead mining or welldressing but is in fact musical. The village has its own band – originally brass and now silver – established over a century ago when the local Co-operative store (then based in the present-day youth hostel building) purchased the first instruments. One account has it that since few members knew any music early parades involved not so much a medley of tunes but rather a "pom, pom, pom" sort of sound. Another, rather more fanciful explanation involves a pig resting on a wall and serenading the band with a "tiddly pom, pom, pom" – hence the village nickname!
Youlgrave or Youlgreave?
Youlgrave was recorded in the Domesday Book of 1086 as Giolgrave and research by the late Bill Shimwell has shown that it has been spelt in over 60 different ways. In the Middle Ages it was variously written as Jalgrave, Iolgrave, Yelgreve and even Hyolegrave. Although the name is sometimes translated as grove of Iola (or Geola) the clearest connection is with lead mining, which has been carried out in the limestone hills of the Peak District since Roman times. A grove or groove is an old term for a mine or open workings (miners were often known as groovers); and it is likely that the village name derives from 'yellow grove', the yellow probably referring to a colour found in the local rock (possibly baryte or barium sulphate).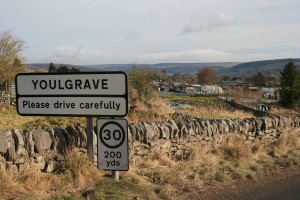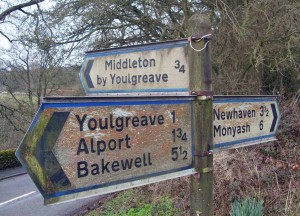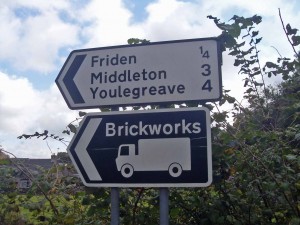 Confused? Three different road signs – three different spellings!
However, even today the spelling of the village's name is a matter of contention and confusion. On Ordnance Survey maps and most road signs you will see it spelt Youlgreave, but many villagers drop the 'e' and use the more traditional Youlgrave. Indeed, the sign at the Village Hall does away with the 'e', as does Youlgrave Waterworks and the village garage. The road signs at either end of the village go with Youlgrave (the Parish Council spelling) while the sign at the A6 turning says Youlgreave (County Council spelling). Then there's the road sign at Newhaven, off the A515 south west of the village, that actually says Youlegreave. Confused?
Here follows a list of spellings of the name of 'the most miss-spelt village' as compiled by local historian and former teacher at Youlgrave school, Mr J W Shimwell.
Giolgrave
Yolgrave
Jalgrave
Hyolgrave
Hyolegrave
Yolgreff
Yoleg
Yolegreve
Yolegrave
Youlgraue
Welegreve
Yoelgreve
Oelgreve
Yelegreve
Yeolegreve
Yolgreave
Yolgreve
Yollegreve
Jol've
Zolgrelf
Yollgreve
Yoligrewe
Yollegrewe
Youlgreve
Zolgreff
Youlgrave(1492)
Yolgreyva
Yolgreyve
Yeolgreave
Youlgreave(1595)
Yellegrave
Yollogreve
Yollograve
Yeollgreave
Youldgreave
Yograve
Isgrave
Yalgrove
Yolegreue
Jolegreue
lolegrave
Jholegreve
Yelegrave
Yellegrave
Iolgrave
Yholgreve
Yelgreve
Zolgreve