For all the news from the village see THE BUGLE, Youlgrave's monthly community magazine.  For previous issues see News page.
Because of restrictions caused by coronavirus the Bugle is currently not available in its usual printed form. So instead read or download the April issue of the Bugle as a pdf by clicking on this link – April 2020 issue web version
Youlgrave Surgery: Easter Bank Holiday opening times
The surgery will NOT be closing over Easter. We will be open Good Friday and Bank Holiday Easter Monday. Normal opening hours Friday 8.30am – 1pm, Monday 8.30am – 12 noon, then 2pm -6pm.
TO ALL LOCAL RESIDENTS: New arrangements at Youlgrave Surgery
In the coming weeks Credas Medical will have to drastically change how it runs in order to deal with the current Covid-19 crisis.
From Friday 20th March the doors to the Surgery at Youlgrave have been and will remain locked in an attempt to reduce footfall through the practice to protect both our staff and patients. Surgery staff will still be on site and available during normal opening hours.
Patients wanting an appointment: You should call the surgery as normal on 01629 636207. You will be offered a telephone appointment on the day if the ailment is urgent or the next routine slot if not. A doctor will then call you to assess you over the phone. If it is deemed necessary you will be asked to attend surgery. All patients who are unwell with any infective symptoms will be assessed at Darley Dale Medical Centre in the Red Zone. This does not mean people with Covid-19 symptoms, they must remain self-isolated and if unwell and unable to manage at home then contact 111. Youlgrave and Winster will remain Green Zones so we keep unwell patients away from the dispensing sites.
Patients ordering prescriptions: You are encouraged to do so by phone, email or via SystmOne online, rather than dropping a repeat slip off at the surgery. We have been asked not to issue extra scripts to protect the supply chain. Please only request medication if you need it. We will not issue scripts if not due, requesting early will only serve to waste staff time.
Patient collecting prescriptions: You are asked to call the Surgery on arrival and someone will bring the prescription out to you (we soon hope to have a functioning intercom system). We are asking patients who pay for their prescriptions to purchase a Prescription Prepayment Certificate if they are able, in an attempt to reduce contact with staff. These cost £104 for a year or £29.10 for 3 months. Please visit www.ppa.org.uk/ppc or call 0845 850 0030 to register for this system of payment.
As per Government guidelines we are encouraging all patients over 70 or who are vulnerable to self-isolate. For this reason we are asking for volunteers who would be willing to help us distribute medications through the village to make sure that no one will go without their medication while self-isolating. If you would be interested in volunteering, and haven't done so already, please send an email to Carrie.Poole@NHS.net, a member of staff will then contact you
How we are managing the situation is changing rapidly and on a daily basis and we will attempt to keep patients up to speed with this, but please do bear with us. We are working under extreme pressure, in unknown territory and would appreciate people's kindness and patience in these uncertain times.
As a final note, please practice social distancing and stop going out unless it is essential; we are around two weeks behind the crisis in Italy. This is not just the flu. It does not just affect the elderly, as young fit and healthy people have already died from this, including teenagers.
For more information: www.nhs.uk/conditions/coronavirus-covid-19/
Other current local information:
Community Response Unit launched to help those in need
Bin collections impacted by coronavirus outbreak
Residents urged to report domestic abuse concerns
District Council issues Business Rate Reliefs to help local firms
Derbyshire Dales car parks – coronavirus
Advice on how to keep youngsters safe on-line
Staying safe from scammers during the Coronavirus outbreak
Welcome to Youlgrave 
Youlgrave is a village in Derbyshire, England, located in the south of the Peak District a few miles from Bakewell. It sits on the hillside just above the River Bradford, near its confluence with the River Lathkill. Youlgrave is one of the largest villages within the Peak District National Park and is a thriving community that takes pride in its resourcefulness and rural character.
Due to its scenic Peak District location, Youlgrave has become a popular tourist destination. Visitors to the area are able to enjoy a range of activities including walking and cycling with tremendous sightseeing opportunities in the beautiful surrounding countryside. There are many trails to follow that suit all abilities, from novice through to the more experienced.
Visitors staying in the area have a good choice of accommodation options and there are several places serving food and drink for the long-term holidaymaker or casual day visitor to enjoy.
For those not wishing to use their own motor transport to explore the area there are local bus routes and a private hire tour service.
What's in a name?
Welcome to Pommie (or Pommy…)
The origin of Youlgrave's curious nickname has nothing to do with lead mining or welldressing but is in fact musical. The village has its own band – originally brass and now silver – established over a century ago when the local Co-operative store (then based in the present-day youth hostel building) purchased the first instruments. One account has it that since few members knew any music early parades involved not so much a medley of tunes but rather a "pom, pom, pom" sort of sound. Another, rather more fanciful explanation involves a pig resting on a wall and serenading the band with a "tiddly pom, pom, pom" – hence the village nickname!
Youlgrave or Youlgreave?
Youlgrave was recorded in the Domesday Book of 1086 as Giolgrave and research by the late Bill Shimwell has shown that it has been spelt in over 60 different ways. In the Middle Ages it was variously written as Jalgrave, Iolgrave, Yelgreve and even Hyolegrave. Although the name is sometimes translated as grove of Iola (or Geola) the clearest connection is with lead mining, which has been carried out in the limestone hills of the Peak District since Roman times. A grove or groove is an old term for a mine or open workings (miners were often known as groovers); and it is likely that the village name derives from 'yellow grove', the yellow probably referring to a colour found in the local rock (possibly baryte or barium sulphate).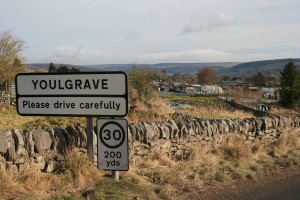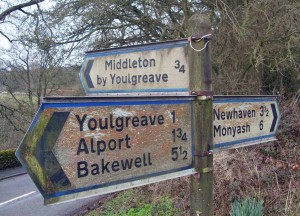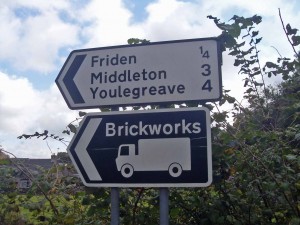 Confused? Three different road signs – three different spellings!
However, even today the spelling of the village's name is a matter of contention and confusion. On Ordnance Survey maps and most road signs you will see it spelt Youlgreave, but many villagers drop the 'e' and use the more traditional Youlgrave. Indeed, the sign at the Village Hall does away with the 'e', as does Youlgrave Waterworks and the village garage. The road signs at either end of the village go with Youlgrave (the Parish Council spelling) while the sign at the A6 turning says Youlgreave (County Council spelling). Then there's the road sign at Newhaven, off the A515 south west of the village, that actually says Youlegreave. Confused?
Here follows a list of spellings of the name of 'the most miss-spelt village' as compiled by local historian and former teacher at Youlgrave school, Mr J W Shimwell.
Giolgrave
Yolgrave
Jalgrave
Hyolgrave
Hyolegrave
Yolgreff
Yoleg
Yolegreve
Yolegrave
Youlgraue
Welegreve
Yoelgreve
Oelgreve
Yelegreve
Yeolegreve
Yolgreave
Yolgreve
Yollegreve
Jol've
Zolgrelf
Yollgreve
Yoligrewe
Yollegrewe
Youlgreve
Zolgreff
Youlgrave(1492)
Yolgreyva
Yolgreyve
Yeolgreave
Youlgreave(1595)
Yellegrave
Yollogreve
Yollograve
Yeollgreave
Youldgreave
Yograve
Isgrave
Yalgrove
Yolegreue
Jolegreue
lolegrave
Jholegreve
Yelegrave
Yellegrave
Iolgrave
Yholgreve
Yelgreve
Zolgreve