Youlgrave WI has been 'inspiring women' in the village since 1919 – so in 2019 we are celebrating our 100th birthday.   After our hugely successful "Evening of Entertainment" in the church in September 2018, we are proud to present our "Centenary Performances" on Fri 15 and Sat 16 November 2019 at the Village Hall.  This time we'll present a short comedy play "A WI Inspector Calls" and a show written and performed by Youlgrave women, about 100 years of Youlgrave history from a female perspective – "Chariots of Women".     Tickets £7.50 available from early September at village shops.
**Youlgrave WI Coffee Morning**  Sat 19 October 2019 10am-1pm    Don't miss our annual coffee morning – drinks, cake and bacon sandwiches – stalls including crafts, bric a brac, books, toys, tombola and the famous Hamper Raffle – check the Bugle for more info.   Donations of bric a brac, crafts etc welcome.  Don't miss it!
Centenary Celebrations in 2019 have included a spectacular Dabble Day (featured in Derbyshire Life magazine); a "black and bling" dinner with other local WIs, entertained by the brilliant Judith Hibbert, mum of Poldark's Demelza; more well received WI Choir performances – and a mention in The Times!  Plus many more excellent events and meetings.
We are part of the Derbyshire Federation of Women's Institutes and the National Federation of Women's Institutes, and along with our sister WIs around the country we make up the largest voluntary women's organisation in the UK. We do make jam (well, some of us do) and we do sing Jerusalem; we also support national campaigns on vital issues, learn about anything and everything from belly dancing to fairtrade tea, take trips to places of interest locally and further afield, and we have a lot of fun doing it!
Monthly meetings
We meet on the second Tuesday of the month at 7.30pm, usually at the Village Hall.  Each meeting focuses on a speaker or an event of some sort, there is ALWAYS cake, and we are delighted to see new faces – don't be shy, just come along and you can be sure of a warm welcome! But do be prepared to learn things you never expected to know – in recent months we've heard about the life of a vicar in a women's prison, and how our members' knitted blankets are sent around the world with an innovative water purifier.  We also had some excellent meetings last year learning salsa and Scottish dancing – with much hilarity from dancers and spectators alike!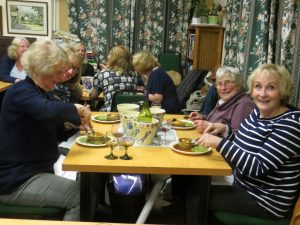 Supper club
We also have a monthly supper club, usually on the last Thursday of the month and usually involving supper (and wine!) – this gives members the chance to get together and socialise in between the monthly meetings, and is also open to those who are not WI members.   We recently celebrated an excellent Burns Supper and are looking forward to making decoupage flower pots, a Mexican night, a family history speaker, learning about reflexology and a summer walk/BBQ among other excellent plans.  Please get in touch for more info!
Trips and activities
We have regular trips and outings, locally and further afield;  recent trips included the BBC Studios at Salford, a lavender farm and a trip to the theatre to see the musical Spamalot. You can find out about these at each meeting, in the Bugle or through our regular email updates.
Clubs and groups
We have a committed book group and a lively craft group, both of which meet regularly and will always welcome new participants.  Youlgrave WI Choir was set up in 2016 and has grown from 10 to over 20 members, who are in much demand for various "gigs".   We also have a burgeoning Centenary group who are doing exciting research into the history of Youlgrave from the perspective of the village's women, and developing it into the show Chariots of Women, to be performed in November 2019, along our comedy players who will perform "A WI Inspector Calls" as part of the evening's entertainment.
National campaigns
The WI has a reputation as a strong and very effective campaigning body.  Previously we have supported the Time to Talk campaign and the national resolution encouraging all members of the WI to talk about organ donation with their family and friends:
"The NFWI notes that three people die every day whilst waiting for an organ transplant. We call on every member of the WI to make their wishes regarding organ donation known, and to encourage their families and friends, and members of their local communities to do likewise."
Other national campaigns include the SOS for honeybees.
Want to hear more?
We're on Twitter @YoulgraveWI and on Facebook – follow or 'like' us for all our news and chat.   Also see our regular articles in the Bugle for a taste of past and future events . . and photos!
Want to join us?
Just come along to one of our monthly meetings and tell the people selling raffle tickets at the door that you've come to see what's going on.   We'll introduce you to some new friends and neighbours and make sure you have plenty of people to chat to.  And of course make sure you get some supper and a hot drink later in the evening.  See you there.