Thanks to assistance from an Awards for All grant, Youlgrave Parish Council have installed three fitness stations comprising of three pieces of equipment at each station around the perimeter of QEII Alport Lane Playing Fields.
This page gives information and links to how each piece of equipment functions, click on each picture for a video. Information plaques are attached to the equipment with an information board at Station 1.
Station 1 – New Road / football pitch boundary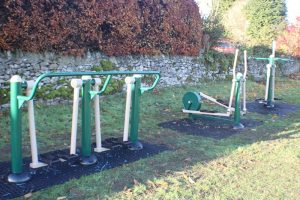 Gentle exercise
Air Skier- 
By swinging both legs together from side to side the Air Skier strengthens and develops the lower abdomen, hips and thighs.  Improves balance and co-ordination through "core" activation. Excellent warm-up and work-out for skiers, but also can provide gentle exercise for fitness beginners.
Elliptical Cross Trainer-
The elliptical cross trainer provides an excellent full-body cardiovascular work-out. It helps to improve co-ordination and balance while providing low impact exercise for legs and arms. Excellent work-out for those recovering from injury. (No video supplied)
Double Air Walker- 
Our most popular unit provides excellent cardiovascular exercise while developing the leg muscles. Allows a full range of movement in the hip joint improving flexibility and strength, without any impact or stress to joints and back. Suitable for all ages and especially for those for whom jogging and power walking are not suitable. This unit can be used by one or two people at once. Exercising with a friend is more fun!
Station 2 –  New Road and Field Corner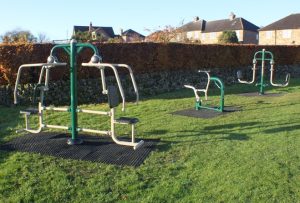 Warming up
Rider-
Similar to a rowing machine but in a more upright position The Rider gives a full-body cardiovascular and toning work-out, pushing with the legs while pulling with the arms against resistance. Works arms shoulders, back legs, abdomen and legs with low impact exercise.
Seated Leg Press-
Excellent work-out for thighs and hips without any of the risks to the knee joints associated with traditional squats. Suitable for all ages and abilities. Increase speed and/or the number of repetitions for more strenuous exercise. Can be used individually or by two people together for paired exercise.
Chest Press-
This apparatus develops power and strength in arms chest shoulders and back. A strenuous work-out that can be assisted by pushing up with the legs.
Station 3 – near the Toilet Block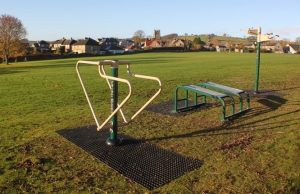 For the more active
Triple Pull Ups-
A strenuous exerciser for arms and shoulders but one of the best for muscle development.  A variation on the classic chin-up bar, it allows 3 people to exercise simultaneously or to compete!
Sit Up Boards-
The design and construction of these sit-up boards helps to encourage correct action and to prevent lower back strain, while at the same time putting the abdominal muscles through a fuller range of movement from extension to contraction. Suitable for all ages and abilities. (No video supplied).
Dips-
Two sets of parallel bars set at different heights allow for push-up and dip exercises and inclined press ups or assisted squat, a strenuous calisthenic exercise to develop strength in arms and shoulders. Can also be used for knee raises. A simple and versatile piece of equipment.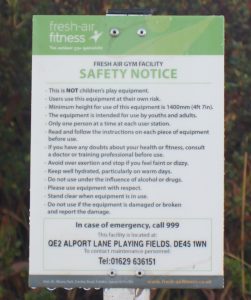 The equipment was supplied and installed by Fresh Air Fitness on 18th November 2016 www.freshairfitness.co.uk