Put in your diary: Saturday 10th August 2019
Food Fest and Carnival – Alport Lane Playing Fields
Previous Years:
10th July 2016
Yes, folks! It's that time of year again… time to sort out the fancy dress and floats for this year's carnival. As always, we aim for this year to be bigger and better than the last, so put Saturday 9 July in your diaries now!
Firstly, this year we would like to decorate the village with the normal bunting – however, we want lots of it! So, we need to get higher on the houses on the main route through the village, so that high vehicles cannot destroy it. We have some volunteers willing to help, but we need your permission to attach supports in the form of hooks, poles or brackets to the houses along the main route. This will obviously not be undertaken without your express permission and will be undertaken in a professional and responsible way, so could those houses affected confirm you're OK for us to do this by emailing us at youlgravecarnival@hotmail.com. We will also confirm with each home owner at the time of putting the bunting up.
As always, any offers of help or suggestions are welcome! We will be kicking the weekend off with the kids disco on Friday 8 July from 6pm, with disco and refreshments in the large marquee on the playing field.
On Saturday, we have some exciting new activities for the kids, with go karts a climbing wall and our traditional sand pit, amongst many other great things to keep the family busy throughout the day. Once again, we will be entertained by Youlgrave School children undertaking their maypole dance and Youlgrave Brownies will again be taking care of refreshments in the marquee (as they did such a great job last year). As well as the usual fair rides, there will be a performance from Youlgrave Silver Band; and also back by popular demand are the caterers – New Close Farm!
We hope after the procession that you will join us back on the field to carry on the celebrations. Previously the evening's entertainment has taken place in the pubs, but this year it will be in the marquee on the field with a disco, which children are welcome to attend (strictly supervised) until 9pm. After that there will be live music from local band Afflixtion, playing a diverse mix of great music. A bar and food will be available throughout the day/night.
We would like to thank everyone who has helped in any way, attended Carnival or donated time, money or prizes. Our main aim is to put money back into the village community and local clubs or good causes. For example, this year we have been able to donate to various outings and worthy causes as follows:
Youlgrave School – maypole, maypole books and music (see photo on page 14). Youlgrave Day Centre (Monday Club) – Christmas meal. Youlgrave Pre-school – Santa's Christmas Sack. Youlgrave Scouts – monetary donation. Duke of Edinburgh – monetary donation. Youlgrave Brownies – monetary donation. We are also in the process of arranging with Youlgrave Parish Council for the repair of the bench at the top of the Church steps.
All this can only happen if you, as Youlgrave residents, continue to support your village carnival. Let's continue to make our carnival celebrations a great day for all the family, whilst bringing the community together. We welcome your input and suggestions or ideas how we can improve.
Keep your eyes peeled for further information for 9th July!
Youlgrave Carnival Committee
Contact us on:
Email: youlgravecarnival@hotmail.com
Tel: 077451 48993
Or visit us on facebook www.facebook.com/youlgravecarnival
A look back at Youlgrave Carnival 2015…
There were a few changes to this year's Carnival, kicking the weekend off with the Kids disco and tug of war on the playing fields. The weather was great and the turnout was even better! Lots of children and adults there to enjoy themselves. As always, Mick Discol and his disco went down a treat and I think we have our very own budding tug of war teams! Many bruises followed on the Saturday after plenty of fun with the heavy rope!
As Saturday dawned the fab weather carried on, and the rides, stalls and catering van opened up as the crowds slowly but surely arrived, followed shortly after by the floats! All the floats were fantastic yet again. First prize went to the World Cup float, second prize went to Postman Pat float and third went to Four Weddings and a Funeral float. The fancy dress categories also looked fantastic – we had a visit from Paddington Bear, Superheroes, Barbies, a truck of Dalmations and to keep everyone under control Pommie PD were out in force with plenty of back up from their smaller officers! Many thanks to this years Judge, Graham Elliot, and some difficult decisions made this year as there were so many fantastic ideas.
O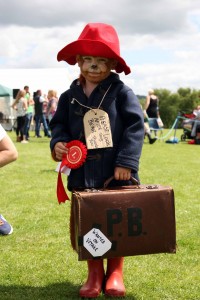 ur 2015 Carnival Queen, Grace Hill, looked beautiful in purple. Her attendants Franchesca and Ruby also looked lovely. Thank you to retiring Queen Poppy for passing the crown along.
Poppy's attendants, Esther and Daniella, also looked great. The Carnival Committee would like to give a big thanks to all the winners who donated their prize money back into the Carnival fund – it is greatly appreciated.
We introduced some new ideas this year which were all enjoyed – the falconry display (once the bird decided to play) was very entertaining, learning about the birds and their natural habitat along the way. Madame Zucchini also made an appearance at the Carnival. Her act was making things out of vegetables, which was enjoyed by all who watched her act and during her walkabout.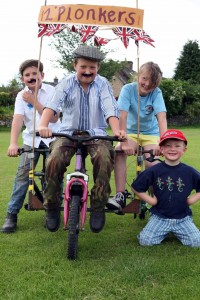 This year we would like to thank Youlgrave School and especially the new head teacher, Mrs Stelling, for allowing the school children to dance the maypole for us. It has been a long time since the school took part in Carnival and it was well worth the wait. The children were fantastic – very well done to all the dancers and teachers. Hopefully we will see them next year, too.
Carnival Committee made the decision again this year to hire out a small bar with pumps which again was preferred by all to the can bar we have done in past years. This will carry on in future years, we hope, along with the sponsorship of the local businesses who sponsored barrels. A big thanks to all this year's sponsors – it would not be possible without you.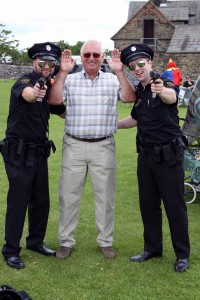 This year's catering was done by Home from Home catering. Jackie and the team had a busy day selling out of many items by mid afternoon! Thank you Jackie and Co for providing us with fantastic food.
The refreshment tent also saw a change this year as Youlgrave Brownies did a brilliant job of keeping everyone topped up with tea and coffee and selling some delicious cakes and biscuits. Thank you very much to Edwina and the girls – we hope you can get your baking hats on next year!
Many thanks, as well, to Sue at The Farmyard Inn and all her staff for yet another good night and Dead Elliot and co for getting everyone dancing! Our normal compere, Mick Partridge was not able to be with us this year, so passed his microphone on to Ian Bright – thank you, Ian, as always you did a great job.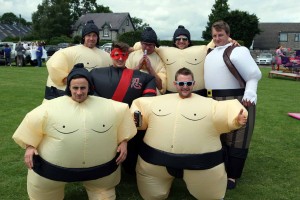 Thank you again to Ken Clayton from the Old Bakery for being this year's official photographer. A big thank you to all members of the committee who always pull together and organise a great day.
Thanks again to all who helped in any way with this year's Carnival. If you have not been mentioned it does not mean we do not appreciate your help or involvement – it just means the list of our supporters is so long we cannot mention them all!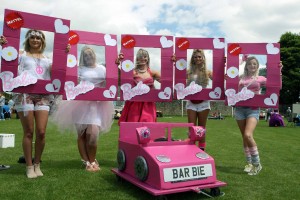 All photos by Ken Clayton
Youlgrave Carnival: a short history
Youlgrave Carnival was revived in 2008 when a small number of people began a committee and bought the traditional and well enjoyed village event back to life. This committee has continued to grow and the carnival has been a success for last 6 years. The aim of the committee is to give the residents of Youlgrave an enjoyable day and to raise money to put back into the village groups/organisations. In the past we have donated money to the Monday Club, Scouts and Playschool.
Jan 2014 – Auction of Prizes and Promises held at The Farmyard Inn in January. We raised over £1800, some of which has been donated to Youlgrave Parish Council to put towards the Youlgrave Defib Fund.
May 2014 – 5-a-side football held at Youlgrave Playing Fields. Thanks to all teams who attended, the weather held out (just!) and a great day had by all. The winners are pictured below:
Youlgrave Carnival 2014 – Saturday 28th June.
Friday 27th –
6.30pm – Wheelbarrow Race –  start at Knoll Club
7.00pm – Kids Disco with Adult Games – Youlgrave Playing Fields (if wet to be held in Village Hall)
Saturday 28th –
12noon PROMPT  – Carnival floats assemble for judging
12.30pm – judging of floats
1.30pm – Judging of fancy dress. Categories: 0-5yrs, 6-11yrs, 12-16yrs & 16plus
2.30pm – Crowning of the Queen
3.00pm – Procession Starts
4.00pm – Display from Youlgrave ilver Band
4.30pm – Tug of War Competition
Evening entertainment at The Farmyard Inn with The Likely Ones and much more
Grand Raffle to be drawn on Sunday 29th at 4pm at The Farmyard Inn.
If you are able to help on carnival day or would like to hold a stall please get in touch.
Contact us on:
Email: youlgravecarnival@hotmail.com
Tel: 077451 48993
Or visit us on facebook www.facebook.com/youlgravecarnival