For a full monthly digest of all the news from Alport, Middleton and Youlgrave see The Bugle, available in village shops and pubs and delivered to every local household. To read the latest issue click on the link below. For more back issues and special editions go to www.thebugle.org.uk. For archived news from 2014-17 see the links at the bottom of this page.
YOULGRAVE PARISH COUNCILLOR ELECTED CHAIR OF PEAK DISTRICT NATIONAL PARK AUTHORITY
Councillor Andrew McCloy has been elected Chairman of PDNPA PDPNA Chair YPC Councillor
1918-2018 YPRES LINK – STAIN GLASS WINDOW TO GO ON SHOW
The completed stain glass and table is being displayed from 2nd to 15th August in All Saints Church in its complete form. This will be the only chance to see the whole as when it departs for Ypres only half will be returned for the November commemoration – the other half remaining in Ypres in its new home. More information on the project.
A SEASON OF PLENTY BECKONS – FROM STRAWBERRIES IN JULY TO APPLES IN OCTOBER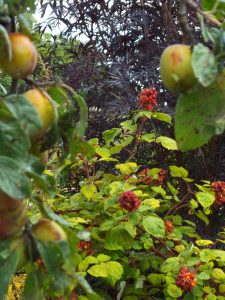 Youlgrave Gardeners and Beekeepers are reminding villagers that this is the time to plan your fruity future! Look at what is happening now to find out what to plant, how to plant and where to plant so that this time next year you can have your very own Season of Plenty. Even in a very small garden a selection of fresh fruit can be harvested from June to October and some saved for the winter, but if you have more space you can reckon to eat your own fruit all year. It's delicious, it's not difficult and above all it's economical.
Planning is vital – this kind of gardening doesn't have an instant fix! Youlgrave Gardeners and Beekeepers are having open time every Sunday afternoon 2.30-4.30pm in July, so come and discuss your needs and work out how you can have a fruity future. That's what we're here for! You can find us at the top allotment beyond the car park.
Check out the website under our name. Come and give us a hand (and share the harvest) if you have some spare time.
This month's appeal – do you have some old carpet you could let us have to make paths, etc? Phone Jeni Edwards on 636550 if you do.
A GOLDEN DAY OUT AT THE PALACE
On a beautiful day in May, four young people from Youlgrave Duke of Edinburgh Award group travelled to London for a reception at Buckingham Palace, where they were met by the Countess of Wessex (Prince Edward's wife) and presented with their Gold Award by Alan Titchmarsh.
Billie Pursglove, George Healey, Lily Carson and Sarah Burton have completed one year of volunteering then a year of either a physical activity or skill and six months of the other, a residential and the expeditions. This committed group of young people undertook various activities, including  being a leader with 1st Youlgrave Guides, horse riding, learning to drive and attending a canal boat course. They all undertook a practise and an assessed expedition in the hills, carrying all their kit, walking for 8 hours a day and wild camping.
To achieve the Gold Duke of Edinburgh Award is a huge achievement, showing commitment to all the sections, teamwork and leadership skills, as well as skills learnt during the individual activities. Unfortunately Will Jackson who was also completed his gold award was unable to attend.
As a group we are immensely proud of these young people and also those following behind. Eve Birch recently attended a presentation at County Hall to receive her Bronze award; and we have several finishing silver and bronze awards
The DofE have recently changed the way the scheme is organised and run and as such the Youlgrave Group was unsure whether we would still be licensed. We are pleased to say that thanks to the team at DCC, we have been given a way forward, albeit on a yearly renewal scheme. This means that in September we will be starting a new Bronze group for anyone in Year  8 or 9, so watch this space for more information!
END OF AN ERA AT YOULGRAVE WATERWORKS
Youlgrave Waterworks Ltd sees the end of an era at its next board meeting, when Roger Stead attends his final meeting as Company Secretary. Roger started with the Waterworks committee in November 1981 and has looked after its affairs through its ups and downs for 36 years. He considers his greatest achievement was the formation of the company Limited by Guarantee in 1996, which is the format it successfully continues in today with 12 volunteer Directors meeting monthly to keep the village constantly supplied.  He leaves Youlgrave Waterworks Ltd in a sound condition and the Directors take this opportunity to thank him for his many years of service and solid advice that will be missed. Roger's final meeting is in the Reading Room at 7.30pm Monday 19th February and he steps down as Company Secretary on 1st March.
COME AND CHEER ON YOUR LOCAL TEAM!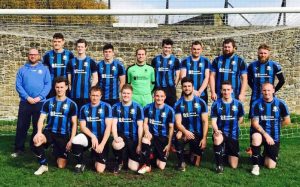 Youlgrave United Football Club was founded in 1886 and is currently one of the oldest amateur football clubs existing to date. The 2017/2018 season started with a boost, as new sponsorship and kit were provided by Renwick Stoneworks Ltd, based in Middleton. The company funded a new Puma strip with an Inter Milan-esque design. The lads are hoping the new kit will spur them on to gain promotion to the Hope Valley Premier League. The (very youthful) side play their home games at Alport Lane, Youlgrave, kicking off at 2pm, and are currently sitting a very respectable second in the Hope Valley 'A' Division. Fixtures are published in the Bull's Head and, in the future, on the Hollywell Lane notice board, so please come along and support us!
YOUNGS OF YOULGRAVE GETS DOWN TO BUSINESS
It's now a couple of months since Amy Young took over Youlgrave Post Office and General Stores and although much has happened, with new stock and fittings, longer opening hours and bright new signage, there are even more exciting developments in the pipeline.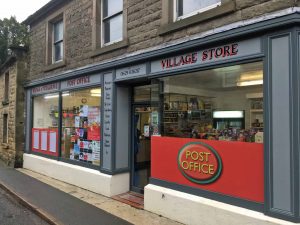 Central to the shop is, of course, the post office, but now the shop offers more newspapers and magazines, as well as cards and stationery. There's a wide range of confectionery, including jars of traditional sweets that are likely to stir fond memories from older residents as well as appeal to younger tastebuds. As the village off licence, there's a choice of wines, bottled beer, ciders and spirits, as well as a selection of dried foods and other useful household items.
"I always wanted to run a shop in the village," admits Amy, who has lived in Youlgrave all her life and is well known for her milk round. "We want this to be a true convenience store, open when people want it, so we've deliberately extended the hours so we open up as early as 6.30am and don't close till 8pm on weekday evenings." Together with her husband Paul, Amy has big plans for the shop, including new flooring and better shelving and lights, as well as extending the shop into the back rooms to increase the floor space and improve the all-round facilities.
"The reaction from local people has been wonderful and really supportive," says Amy. "We're also determined to have a successful working relationship with the Bingham's Village Shop so that the two businesses complement each other and both thrive. But we've also had great feedback from the pubs and holiday cottages, whose guests can now buy a paper and other essential everyday items."
Thanks to the Youngs, the fortunes of the local community are certainly looking brighter now that the future of the village post office has been secured. Both Amy and full time sub-postmistress Emma Wardle have been fully trained and across the counter offer a surprisingly diverse range of customer services. As well as ordering foreign currency and paying car tax, household bills and council tax, plus a very efficient laundry service, you can wire money electronically to locations around the world via MoneyGram, send parcels and packages, and perhaps best of all enjoy a wide range of banking services. This includes cash deposits and withdrawals on all major high street banks, as well as paying cheques in. "As banks continue to close their branches, most recently Lloyds in Bakewell," says Amy, "people will increasingly turn to post offices for this sort of hands-on service, and I'm delighted we can offer this at Youlgrave Post Office."
Together with Peak Feast and Youlgrave Village Shop, the refreshed and attractive Youlgrave Post Office (all three run by enterprising village families, of course) shows that perhaps the trend away from village shops towards large supermarkets is slowing up and there is, after all, a place for well-run, well-stocked local shops tailored to local needs. Youngs of Youlgrave looks forward to serving you!
Youngs of Youlgrave: Post Office and General Stores, tel 01629 636217. OPENING TIMES: Monday-Friday 6.30am-8pm, Saturday 6.30am-5.30pm, Sunday 7.30am-12.30pm
COMMUNITY SPIRIT SHINES THROUGH FOR PRE-SCHOOL
At the start of the summer it became clear that Youlgrave Pre-school was in urgent need of funding to stay open. Through various fundraising events and huge local support we are now more hopeful of its future. We would like to thank everyone for their generosity and support this summer, especially with the end-of-summer duck race. Particular mentions of thanks go to: Gulliver's Kingdom – raffle prize, Matlock Farm Park – raffle prize, Farmyard Inn – raffle prize and 'Sweets in a Jar', RR Motorcycles – sponsoring the duck race, Derbyshire Aggregates – restocking our sandpit, Youlgrave Cricket Club – generous donation AND Bull's Head pub – bric-a-brac stall.
As we are reliant on income via fundraising and donations more than ever, we hope you will continue to support future events. Many thanks from the Youlgrave Pre-school children, as well as all the staff and committee.