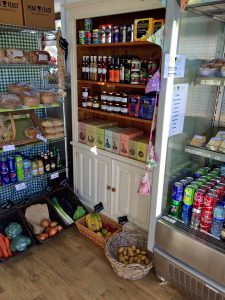 Peak Feast – caterer and bakery, visitors welcome. Email dawn@peakfeast.co.uk and see website Peak Feast tel 01629 630000. Cakes, traybakes, Bakewell Tarts, biscuits, quiches, pies, savouries and bakery. The bakery is exclusively vegetarian so product range suitable for vegetarians and, where stated, vegan friendly. Visit Peak Feast on Moor Lane, Youlgrave (open most daytimes).
Dairy – Amy's Dairy 01629 636639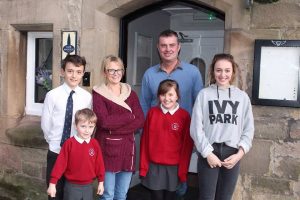 Public House – Welcome from the Hill family to The Bulls Head, Fountain Square, Youlgrave DE45 1UR 01629 636307. Email bullsheadyoulgrave@gmail.com and see website www.thebullsheadyoulgrave.co.uk Opening hours: Mon-Thurs, 6.30pm-12 midnight, Fri 5pm-1am, Sat and Sun open all day (1am close on Sat). From Easter: Mon-Fri 12-3pm. Meals and snacks available lunchtime and evenings – please inquire for times. Full time local chef starting mid June – menu to expand!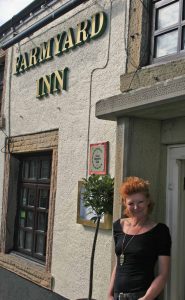 Public House – Welcome from Sue and the team at The Farmyard Inn, Main Street, Youlgrave, DE45 1UW
Sue Day 01629 636221 Email and see website www.farmyardinn.co.uk
Opening Hours: Lunch 12 noon – 3pm, 5pm – 11pm (Mon-Wed), 5 – 11.30pm (Thurs), 5 – late (Fri & Sat)
Sunday open all day 12 noon – 11pm
Food available: 12 noon–3pm, 5pm–9pm
All ingredients are locally sourced. Wednesday is "Pie night", Thursday is "Curry night" and on Sunday there is a Carvery.
Accommodation: 4 Rooms all en-suite, mid week £70, weekend £80, single occupancy £60.
Points to note: Take away service may be available on request.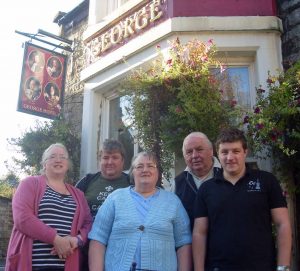 Hotel – Welcome from the Marsh family to The George Hotel, Church Street, Youlgrave DE45 1WN, tel 01629 636292
Opening Hours: Mon-Sat 11am – 11pm, Sunday 12 noon – 10.30pm
Food Available: Mon 11am–8pm, Tues – Sat 11am–9pm, Sunday 12 noon–7.30pm
Accommodation: 3 Rooms – family room £36 pppn, £40 single occupancy. Double room £45 pppn single occupancy, single night and Twin room.
Points to note: All ingredients are locally sourced. All hand made chips, beefburgers, etc, Game always on the menu, generous portions.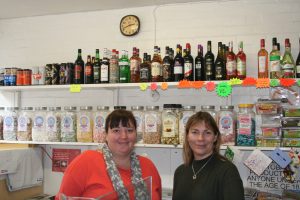 Youngs of Youlgrave: Post Office and General Store – Amy Young, Church Street, Youlgrave 01629 636217. Wide range of Post Office counter services, including car tax, banking (cash withdrawal, cheques and payments in) foreign currency, bill payments and council tax payments, plus newspapers, periodicals, stationery, confectionery, off licence, etc.
Open 6.30am – 8pm Mon-Fri, 6.30am – 5.30pm Sat and 7.30am – 12.30pm Sun.
Post Office opening times 8.00am – 5.30pm Mon-Fri and 8.30am – 12.30pm Sat.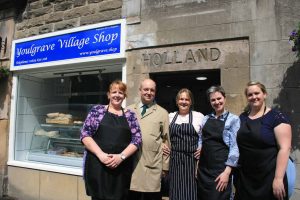 Youlgrave Village Shop & Tearooms – Lisa and John Bingham, 26 Church Street, Youlgrave 01629 630208, Email lisa@youlgrave.shop and see website www.youlgrave.shop. Lisa and John Bingham and the team offer snacks and hot/cold takeaways (rolls, sandwiches, panninis, etc), plus an upstairs tearooms and outside courtyard seating. Shop open 8.30am-5pm (Mon, Tues, Thurs & Fri), 8.30am-12.30pm (Wed), 9am-5pm (Sat) and 10am-4pm (Sun). Tearoom open daily 10am-4pm daily (closed Wed).
Disclaimer: The youlgrave.org.uk website is not responsible for the content of external sites linked from this website. Therefore, the inclusion of a link to an external website from youlgrave.org.uk should not be understood to be an endorsement or recommendation of that website or the site's owners (or their products/services).