End of an era at Holland Butchers
As David Figg retires at the end of this month he reflects on four decades as a Youlgrave shopkeeper.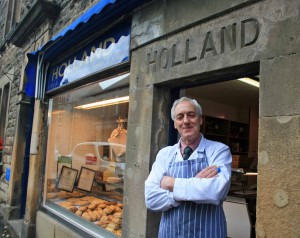 Well, doesn't time fly when you're having fun?! It seems only a blink of an eye away from the day that Denise and I arrived on a cold February day in 1974. We were just 20 and 22 years old. The shop, which had been established for well over a hundred years, was owned by Harry Holland, known as 'Father Harry'. We worked alongside him for a short while, giving us time to get to know the customers and to learn the everyday running of a village butcher's shop. In those days the village was very tight-knit with virtually no 'outsiders', and so it was a little bit daunting. However, the Holland family took us under their wing and made us feel like one of the family.
There was a lot to learn. We killed all our meat on the premises in those days; it was a lot different to the town shop I came from. There was also a huge delivery round to get to know, which encompassed the outlying farms and villages of Middleton, Stanton, Biggin, Pikehall, Darley Dale and Rowsley. We went out four days a week, two of which we 'hawked' the meat (cut the meat up from the back of the van) using a small wooden block and Avery scales. Because there were only two of us, Denise undertook all of these deliveries, sometimes not returning until 10 o'clock at night. Biggin was always the challenge in winter. We can remember delivering to Mrs Birds's then wooden bungalow, only to find that she had to dig a snow tunnel from her front door to get out! On another occasion, we had a tricky time getting to Stanton-in-Peak. It snowed incessantly all day, so we decided to take the orders that evening instead of the next day. Denise and I set off with the aim of getting as far up Stanton hill as possible. It was single track with snow all around, probably 10ft either side. We were pleased with ourselves, we had reached topside the church. Our smiles soon vanished when, to our horror, the back doors were swinging open and not an order to be seen! We had been so intent on looking forward that we hadn't noticed the orders slipping silently into the snow behind us! Back in the van we jumped, picking up the orders from the middle of the track on the way back down – and right at the very bottom sat the butcher's basket! We then decided that Denise would take the village orders by sledge and I would go to the outlying cottage at Pilough. Miss Wain was an old lady, living alone. I trudged through the snow which was, at times, up to my hips, eventually arriving in pitch dark, wet through with snow filling my wellies. I knocked and, thankfully, the door soon creaked open. Miss Wain greeted me with a smile, exclaiming "eeh lad, I could have managed!"
Christmases – oh, we've had fun – and nightmares! I remember one year it being so cold that when we collected the fresh turkeys from the farmer they had frozen solid in the barn and we couldn't dress them. Luckily, the weather eased a little and everything was OK. Christmas is a hard and worrying time, but customers come in, always happy and smiling and that keeps you going. There are so many great memories – particularly of people – customers of great character. To name but a few: Jo Birds, Norman Pursglove, Daisy Arden and Violet, Alice Wragg and Ethel, Rita and Eva Birds, Max Brindley, Bill Shimwell, Alan Oldfield. Jo Birds was the biggest tease of them all – he used to pretend to jump the queue to annoy the customers behind, then he'd scurry out of the shop laughing, leaving me to pick up the pieces! I think Anthony Wragg went to the same school!
As my retirement approaches (Saturday 28 November) I admit to feeling very emotional. My customers I regard as my friends. I certainly will miss them and the banter over the counter most of all. We have been very lucky with the staff we have had, they have been amazing. The hours are long, the shop cold, and the bakehouse dark at 5 o'clock on a winter's morning. Those of you know who you are – from shop staff, bakehouse staff and my Saturday helpers down the years – Denise and I want to thank each and every one of you for your dedication, reliability and sense of humour (main requirement!). We have been very, very fortunate. Most of all, I have been blessed with a loving wife who has been my rock and support all the way through the tough times and the good times and who has given me two wonderful children who are always there for me. Having a shop in Youlgrave, which is filled with so many lovely people, has been a privilege and I feel lucky to have served you all for 42 years.
David Figg
Youlgrave wins regional building award
Youlgrave Community Land Trust is delighted to announce that the Hannah Bowman Way residential development, which was completed in March this year, has been given an award by the East Midlands Region of the Forum for the Built Environment. The scheme was judged not only best residential development of the year but best development of the year overall.
The judges' citation points out that the scheme is the culmination of many years work by the local community and has been provided through a partnership between Peak District Rural Housing Association, Youlgrave Community Land Trust and East Midlands Housing Group, with great support from Derbyshire Dales District Council.  The development was constructed via a design and build contract with Lindum Construction, who built six houses and two bungalows (for affordable rent and shared ownership by local people in housing need) using limestone and slate tiles and employing traditional building methods. The judges were impressed by the good design of the homes, their energy efficiency, the local sourcing of materials and trades by Lindum, and the care they had taken to develop good relationships with the local community during the course of the build. The award was presented to Lindum and EMH Group at a dinner in October.
Repairing the river – please help
Throughout the dry summer of 2011 the River Bradford became dangerously low. On Friday 12 August 2011, it dried up through the village and didn't return for four months. Over 100 people attended a village meeting to find out what could be done so it wouldn't happen again. As a consequence of this meeting the White Peak Rivers Group was set up, to address this and other problems with the rivers in the area.  Jenny from the Environment Agency was asked to investigate water being lost from the Bradford, into what some of the residents suspected was the sewer. This 9in main runs from Middleton to the sewage works at Picory Corner. She reported to us at another village meeting in November 2014 that a mobile camera had been sent up a short section of the sewer pipe opposite Spring Lane. The results showed 28 separate breaks in the pipe, with clean water rushing in (see photo) and another 14 areas of damage. As the year turned we began to chivvy the authorities to get some work done on the sewer. With increasing concern, requests for action became more and more desperate. The result of being ignored is that so much water is being lost that the entire river at the bottom of Holywell Lane now takes 10 seconds to fill a 3 gallon bucket! Severn Trent Water want to put flow meters in the sewer and have no plans to stop the leaks this year, so I am afraid the river will almost certainly dry up again. Please take photos of the river in its sorry state and forward them to me. These will be used to encourage Severn Trent Water to carry out sewer lining, now at least 19 months over-due.
Warren (Haddon Estate), tel 07801 457225, email waterlines@live.co.uk
Silver Band hit the right note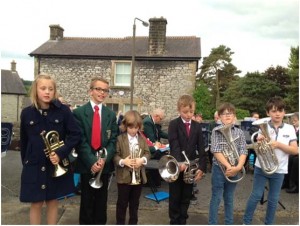 Firstly, on behalf of all the band members I want to give a enormous "thank you" to John Roper for giving us his time, commitment and energy through the season since January, at some cost to himself. At little notice, we were left with no conductor, and he gallantly stepped in and worked very hard to give us different music and enjoyment, playing with a relaxed atmosphere. He took us to Buxton in April, and the village celebrations in May and June, all whilst continuing his other commitments as conductor and player in two other bands. Enjoy your well deserved rest, John, with our good wishes. Alongside this, the band's learner's section is developing rapidly, with Helen Mellor, assisted by other members. Ranging in age from six years upwards, they played a first piece at the Methodist Church concert in May, and further pieces at the Well Dressing Sunday evening concert (see photo). We have seven youngsters and three adult learners, and welcome more if you feel you would like to join us in a creative and relaxed atmosphere. Please call me on 630202 if you are interested. Our conductor Paul Harding has now returned with enthusiasm for the next season, as well as new music and improved playing, so come, support and enjoy listening to us at our next concert which we expect to be in November (see future issues of the Bugle).
Judith Orchard
Dogs now banned from play areas and allotments
Official DOG EXCLUSION ORDERS have come into force on the Alport Lane Playing Fields, the play area by the Coldwell End car park, and the Council-run allotments in the village. Derbyshire Dales District Council introduced the new regulations earlier this year in order to ensure that public places remained safe and enjoyable for the public to use, especially children. In Youlgrave, despite asking people not to take their dogs on to the playing field, the Parish Council has received numerous complaints about dog mess, including on the football and cricket pitches. It is now an offence to take a dog on to these named sites and District Council workers have the powers to issue fixed penalty notices to offenders. Please respect the new regulations – and remember that there are still plenty of local paths and open spaces where you can continue to enjoy walking your dog. Thank you.
Roy and Joy Stubbs – their legacy to Youlgrave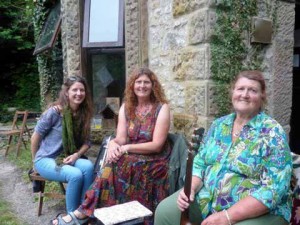 Our village has been exceptionally lucky to have had such innovative contributions from incomers over the years, but few can have achieved so much in so shorter time as that endearing couple, Roy and Joy Stubbs. Therefore it was more than appropriate that a weekend of three charming events should take place in their memory to successfully raise funds for the Bankside Wildlife Garden to cover insurance, repairs and other maintenance costs.
Friday evening started with an informal walk through the village starting at the Scout and Community Hall where we could see the foundation stone inscribed With Roy and Joy's name laid by them on 30 November 1992. This project for the specific use of the young people of the area was very much Joy's personal project and was achieved in remarkably short time, with Joy's drive to replace the old uninsured 'Scout Hut' that burned down some 20 years earlier. The Brownies were representing the young people and recited poems to reflect the evening and launch the evening's wonderful entertainment by the 'Bird Scarers' in the magical setting of the Garden. The Folk Club generously donated a substantial sum to underwrite the weekend's entertainment costs. This talented group consisting of Granny, Daughter and Granddaughter provided  music and song with most amusing lyrics and harmony which was enjoyed by a sizeable audience, including overseas visitors from the Youth Hostel. Roy, who was immensely supportive in Maggie Ford's generous gift to the village (which is particularly enjoyed by our younger generation), would have been thrilled to see the results.
Saturday afternoon saw an industrious team of ladies ably led by Chrissie Baker and Barbara Scrivener providing a veritable feast of afternoon tea with strawberries and cream at Granby House. Much memorabilia of the project of creating another successful village asset, where Joy had played an important part, ably assisted by Roy, was on show, and together with the company of the residents, many visitors mingled for a nostalgic trip down 'memory lane'. The Village Hall became quite a sophisticated venue for a Jazz Brunch on Sunday lunchtime. Again, another magnificent team of helpers with the added skills of Dawn of Peak Feast succeeded in providing a delightful, leisurely feast, whilst being amused by poignant readings by Jeni Edwards of her own poems and Roy's very individual poems read by Maggie. We then revelled in the relaxing and superb recital of Jazz piano from the very talented Dorian Ford. The lucky bunch of diners with a mix of locals and those from further afield were treated to a brilliant rendition of great jazz. It is sometimes hard to believe that all these wonderful things take place in little old Youlgrave!
Ian Bright
Glowing report for Youlgrave School
Youlgrave, All Saints' C of E Primary School has been praised by a government inspector who undertook a rigorous two-day visit last month. It was rated "good" in all areas and "outstanding" for the behaviour and safety of pupils. Head Teacher Mrs Heather Stelling was understandably delighted at the vote of confidence in the popular village school. "I feel very privileged to be the Head Teacher of Youlgrave Primary School. I'm so proud of our amazing children and my dedicated team of staff; and I wish to thank our parents and governing body for their ongoing support." The inspector praised the quality of teaching, the supportive contribution of parents and governors, and the attitude and behaviour of the children themselves who overall make good academic progress. The inspection included classroom observation, examination of the children's work, meetings with staff and governors, and an assessment of parents' views via an online questionnaire and conversations outside school. Among the detailed comments in the Ofsted report:
Subject topics are presented in an enjoyable and stimulating way, such as the recent Alchemy Island for Years 5 and 6 which provided inspiration for science investigations, and the mathematical baking for Years 3 and 4 which taught the children accuracy in measuring.
Governors provide effective leadership and scrutinise progress properly, while the new Head Teacher has already had a very positive impact on the school, such as building relationships with parents, strengthening safeguarding procedures and tracking pupil's progress.
The quality of teaching throughout the school has been consistently good and equality of opportunity is widely promoted.
The children are courteous, caring and their behaviour is outstanding; they are proud of their school, with one pupil telling the inspector: "we may be a small school but we have big adventures!".
The school's work to keep the pupils safe and secure is outstanding and the children have a clear understanding that bullying in any form is not acceptable.
Teachers are adept at planning work for their mixed age groups and teaching assistants play an important and supportive role in the classroom.
Children develop good skills across a range of subjects; they make good progress in the basic skills of reading, writing and mathematics; and are also encouraged to develop talents in artistic fields, such as music and sport.
Children also make good progress in Reception class because early years teaching is good and their attitudes to learning and behaviour are very positive.
The school enjoys a close and supportive relationship with the local community, from the recent VE Day celebration event to producing its own welldressing, as well as its positive links with the church.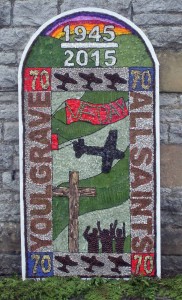 Martin Ebbage, Chair of Governors, said: "This Ofsted report is testament to the hard work and commitment of all the staff in our school who have been relentless in their quest for high standards." The Ofsted inspector also suggested ways that the school could improve its teaching even further that would help it achieve an outstanding rating in all areas. The full report is available to read or download via the school's website www.youlgraveallsaints.co.uk.