Youlgrave Foodbank helps those in need
Youlgrave Foodbank started last Christmas. During the year the support has fluctuated up and down, but has mainly been well supported. It now appears to be part of Youlgrave's continuing social response to a sadly growing need in our country. The local Co-Op in Bakewell supports Foodbanks and in the recent newsletter wrote: "With one million people predicted to be needing help from a foodbank by 2016 food poverty is an increasingly serious issue." Please be as generous as you can at this time of year, when we are all thinking about our own Christmas presents and Christmas food. Please spare a thought for those struggling to feed and keep a family together. They won't have much to celebrate about at their Christmas. So please go to the Foodbank in Hollands, Church Street, Youlgrave,  with a little extra this month. Thank you.
Walking for Health group steps out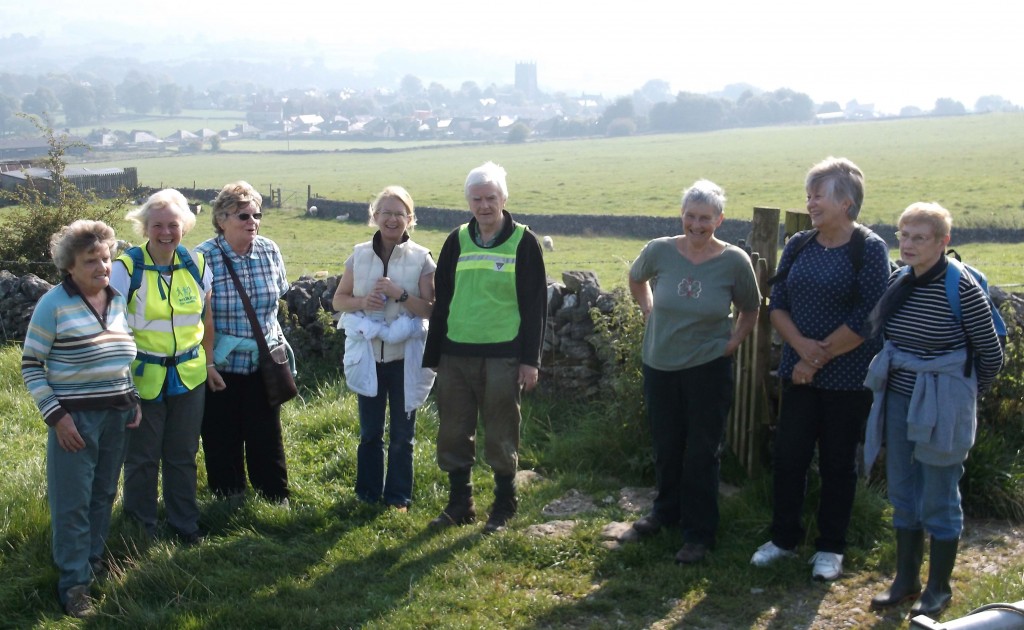 The first outing of the new, local Walking for Health group took place at the end of September, with seven  residents from Youlgrave, Middleton and Birchover joining the Health Walk leaders (Pete, Linda and Carl) for a very enjoyable walk. We went from Coldwell End car park over the fields to Meadow Place Grange, before walking down through the woods into Lathkill Dale and then following the dale back to the village and our starting point. We were lucky with the weather and of course the views before dropping down into the dale towards Bakewell and Manners Wood were spectacular. Our second walk was held on 14 October. Again, this was well attended and followed a route from the car park down into Bradford Dale to Gratton Grange Farm and then back to the village. Although the weather was a bit drizzly everyone enjoyed the walk.
We have been very encouraged by the number of walkers who have joined us on our first two walks. So if you would like to get active please join us – you will be made very welcome. The pace of the walks has been set by the walkers themselves and walking as part of a group is a good way to start getting active. You will find that everyone encourages each other to keep going. All the walks are free. If you would like to join us we meet at 10.30am at Coldwell End car park, Youlgrave. The walks are held on the second and fourth Tuesday of each month, with the next on 11 and 25 November, 9 December and 13 January 2015. For more information call Pete Tapping (07752 463918) or Linda Neale (01629 650625), or visit www.derbyshiredales.gov.uk/walkingforhealth. Linda Neal
Youlgrave WI – 95 and getting younger!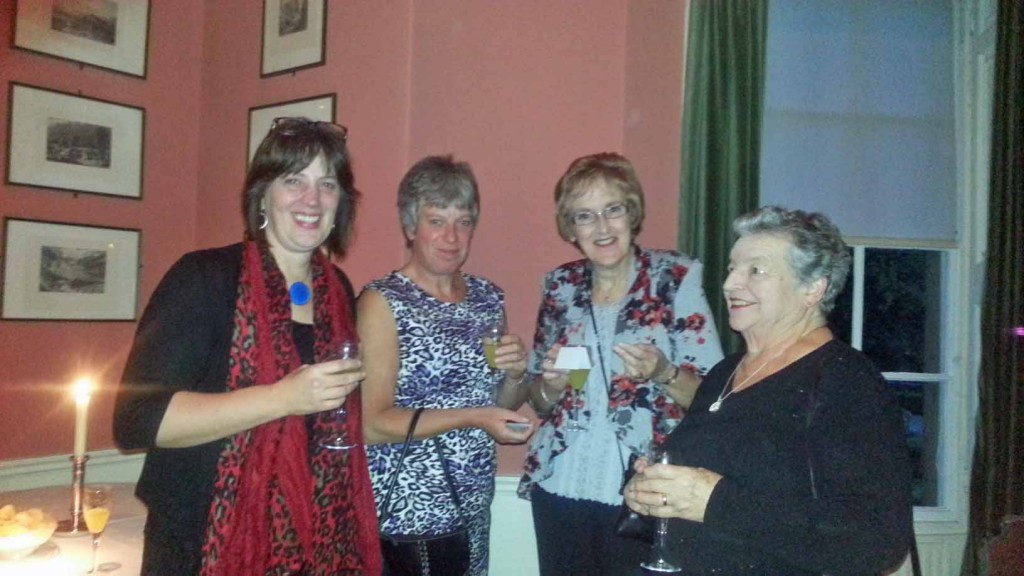 We recently celebrated our 95th anniversary in style, with many members, long-standing and 'freshers' alike, enjoying a lovely dinner at Hassop Hall with the usual attentive service and beautiful surroundings. In September, our outing to 'the dogs', and a two-tier dining experience revealed the most skilled 'form' experts amongst us, as they returned home with their winnings. Food, as always, is never far from our agenda, and a lovely supper accompanied our October meeting when the ladies took on an angelicaura during a tutored beading session. Our Coffee morning was a great success, with many villagers attending and admiring the crafts, cakes, bric-a-brac etc and the superb prizes on offer.
October Supper Club Beetle Drive will merit a spooky report next time, after the gore has been cleared up! Plenty to look forward to in November too – Sunday 2nd is Pam's walk, followed by a pub lunch. Craft sessions continue on 3rd and 17th November, meeting at Liz McCloy's on the 3rd at 2pm. The Supper Club Christmas Dinner will be held at The Farmyard Inn on 27 November. Our regular meeting is on Tuesday 11 November. As well as the all important AGM, members and guests are invited to join a clothes schwapping experience. See posters or ask a member for details. Venue is the Village Hall at 7.30pm. All are welcome.  Liz Hickman
Legal claim over status of Over Haddon-Youlgrave route
A claim to add a Byway Open to All Traffic (BOAT) has been made on the route from Monyash Road, Over Haddon, via Lathkill Dale and Meadow Place Grange to Back Lane, near Conksbury
Derbyshire County Council is asking parishioners and other users for personal knowledge of the use of this route as far back as you can remember. Specifically, they want to know what type of traffic you have seen during the times you have travelled it and if possible the dates that this traffic was seen and what it was doing – going back all the years you have used it. Equally, they are interested to hear if there are types of traffic you have not seen when using it.
The attached documents show the County Council letter and map of the route and also an evidence form, as the deadline has been extended until 7th November to give time to gather as much information as possible. Youlgrave Parish Council is keen to assist in providing this evidence and copies of the form have been circulated to councillors for distribution or are available from the clerk. The return address and County Council email are on the Consultation letter and Public User Evidence form available here.
New exhibition depicts local community life during the Great War period
From Saturday 8th – Tuesday 11th November (inclusive), open daily 10am to 4pm in All Saints Church, Youlgrave. This exhibition is presented by the Youlgreave 1914-18 Community Group, in conjunction with All Saints C of E Primary School and with help from other members of the community. Items and reflections for display still welcome.
Sam rides to national success
Huge congratulations and well done to Youlgrave's Sam Young, aged 13, who over a long season of motorcross racing has won the AMCA Motorcross Inter Junior North West England Championship.
Not letting any pressure get to him, the championship went all the way down to the last race where anything more than a sixth place would make Sam the champion – which he succeeded in doing. And there was even better news for Mum and Dad, who promised a new bike at the beginning of the season if he won the championship (maybe not thinking it was possible!). On the way to winning the championship in such great style Sam managed to attract a bit of sponsorship from R R Motorcycles of Bakewell, and this has all helped to ease the pressure on Mum and Dad's pocket a little!
Well done, Sam, we are all very proud of you. And thanks to everyone who came to support him on the way, especially Jack and Emily who are Number One supporters every week.
Youlgrave Horticultural Show celebrates 75 years

After such a great summer, most flowers and vegetables had been at their best before this year's annual horticultural show, now in its 75th year.   However, the gardeners, bakers, children, wood turners and photographers from around the village did not disappoint us and once again the Youlgrave Horticultural Show, held on the first Saturday in September, was a resounding success.
Maureen Capewell won best floral art display with a beautiful arrangement. Tony Frost won the Silver Cup for the best local gardener and Wendy Wilson took away the trophy for the most points in the baking and handicrafts sections. Mr Ollerenshaw collected trophies for the most points and best exhibits in the vegetables and flowers sections. His tomatoes also won the best in the show. Joseph Shimwell won the best exhibit in the children's section for his amazing welded tractor and trailer (see photo below) – fantastic!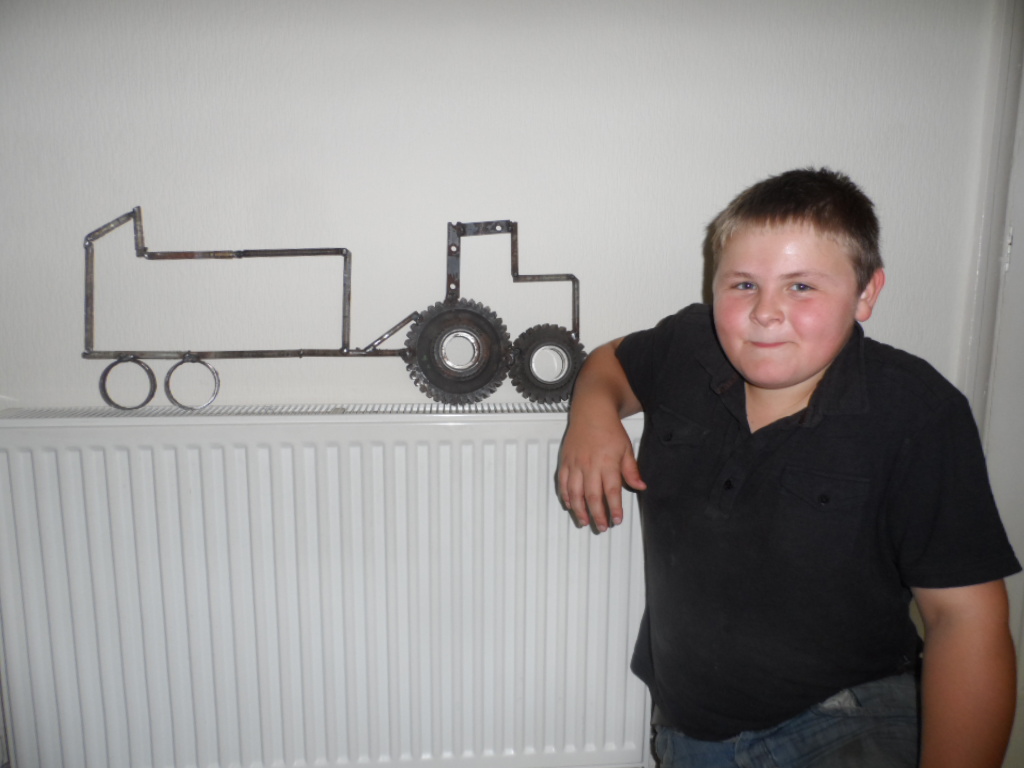 Get fit with Jog Youlgrave
Formal sessions are taking place again – jogging for absolute beginners and all runners. Meet at Youlgrave Scout and Community Hut every Saturday from 10.30 to 11.30am. Learn to enjoy jogging with a friendly group and trained leader – much easier than trying on your own! Everyone is welcome and it's free, apart from a small donation for use of the venue. Any enquiries please contact Pete Tapping on 0775 2463918.
First in class for school gardeners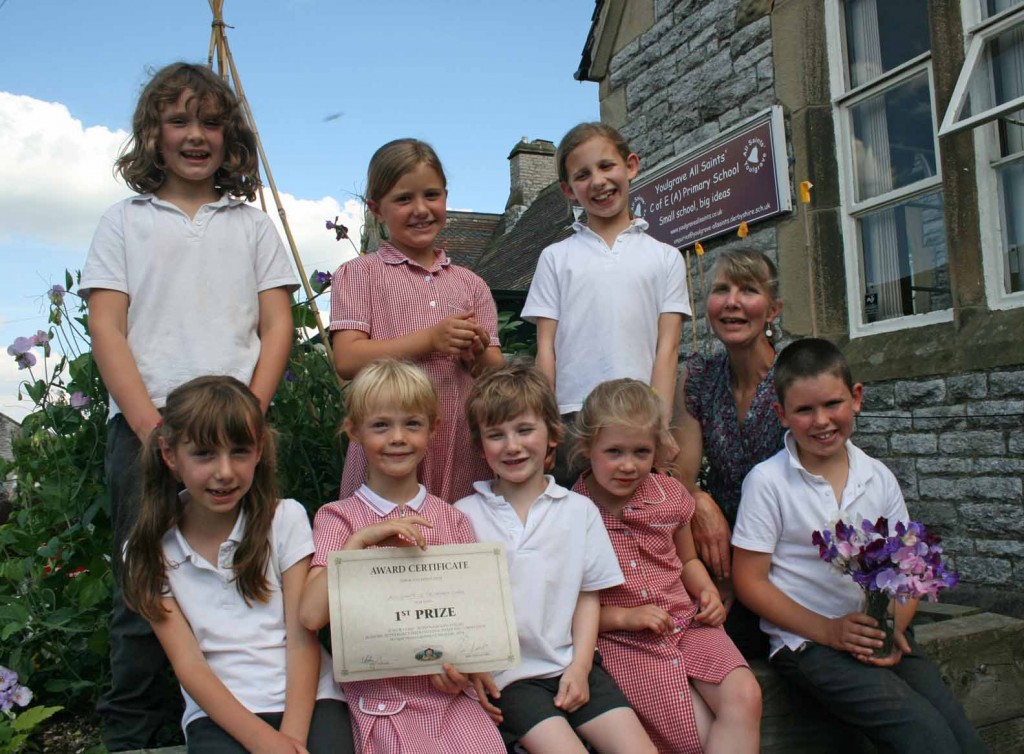 As the new academic year starts at All Saints School, its green-fingered pupils are celebrating after their sweet peas won first prize in a national competition. The colourful and fragrant flowers, grown by the after-school gardening club, were judged first in the schools and junior groups section in a competition organised by national seed and garden supplier Mr Fothergill's. The £500 prize money will go towards furthering the school's great gardening work.
All Saints' sweet peas were entered in the competition by Mrs Jill Trainor, Class One Teaching Assistant, who organises the club. She's also been helped by School Governor Saffron Baker and several other parents who volunteer their time after school on a Friday afternoon. A selection of sweet pea blooms had to be posted to the judges inside a plastic drinks bottle, wrapped in a damp kitchen towel and cling film! They were judged for the number and quality of the blooms and their overall appeal.
The school's remaining sweet peas have been harvested over the holidays and given to Granby House to bring their lovely scent to the residents in the conservatory. In addition to the sweet peas, the children have planted a variety of fruit and vegetables in locations around the playground, including strawberries, courgettes, green beans and potatoes. Much of the produce is used by Mrs Woods in the school kitchen to make nutritious healthy meals for the children. Fingers crossed for some late warmth this autumn to swell the pumpkins and ripen the tumbling tomatoes in the playground!
Wanted: Youlgrave Housekeeper
Do you enjoy the company of older people? Granby House (Youlgrave & District) Society Ltd wish to appoint a caring, responsible and capable Housekeeper. Our busy house is home to eight older independent residents and is situated on Alport Lane in Youlgrave.
You would work as part of a team of 3 paid staff and a number of volunteers. Together the team makes sure that the residents are happy and well cared for. Your duties would include cooking and serving attractive, nutritious lunches and teas and ensuring the house is kept spotlessly clean. You would also liaise with relatives, local trades people, carers, etc. Patience, total unflappability and a good sense of humour are essential qualities for this post.
We want someone to work 27 to 37 hours per week at £7 per hour. If you would like more details and an application form please contact Pat Cleaver on 01629 636836 or granbyhouse@gmail.com.
Memories of the First World War
Many of you will have been present at the service on 3 August to remember those people from this community and beyond who served in the First World War; and judging from the warm atmosphere and positive comments afterwards, it seems that this is something very close to our hearts.  With this in mind we are hoping to have an exhibition in All Saints Church from Saturday 8th to Tuesday 11th November. This will obviously coincide with Remembrance Sunday and Armistice Day which will be so poignant this year, one hundred years after the start of the First World War.
We are keen to gather items together for this occasion. They can be anything from medals and actual memorabilia to written recollections by family members who lived at that time. Anything such as photos or papers which can be copied will be gratefully received. The copies can then be displayed and the originals returned safely to you. The exhibition will be stewarded and items such as medals displayed securely in boxes. It will not be confined to military items, as there are many other interesting aspects to consider: what the school did, what the famers did, what the women did, what the food was like, who lived where in the village…
Neither will it be confined to people who were born locally as many of our families will have moved into the village in the hundred years since the War started. We want it to appeal to all age groups so if you have any items or thoughts to share, please get in touch with David Camm, Eddie Oldfield or Anne and John Cooper on 01629 630282 or email us on jlac784@hotmail.com. Looking further ahead we have plans to commemorate the Christmas Truce of 1914 on 20 December this year with football, carol singing and refreshments. This will be the first of a series of commemorative events over the next four years, including a summer picnic, a matinee film performance.