Charity Commission
Charity: Youlgreave Boy Scouts – 520677
The Commission proposes to make a Scheme (a legal document) for this charity.  The Scheme will change the objectives of the charity.  A copy of the Scheme can be seen at www.charitycommission.gov.uk/our-regulatory-work/how-to-comment-on-a-scheme/schemes-and-orders/  (If you cannot access this please call their contact centre on 0300 066 9197.)
Comments or representations on these proposals can be made to the Commission within one month from 16th June 2016 by completing the form on our website.  Please quote DH – 520677 – C-433456.
Women's national cycle tour through Youlgrave
Approximate timings have now been given for the Aviva Women's Cycle Tour which will zoom through Youlgrave later this month. Stage 3 of the prestigious national race, on Friday 17 June, will see the competitors depart Ashbourne at 10.45am then ride via Earl Sterndale, Flagg, Monyash, Youlgrave, Winster, Darley Bridge, Matlock, Beeley and Baslow, before finishing at Chesterfield. The stage is 110km (68 miles) long and involves around 2,000m of climbing (6,500ft). The lead cars are expected through Youlgrave just after midday, with the riders due between 12.15-12.30pm. For more details about the race and individual stages go to www.womenstour.co.uk/stages/stage3/index.php.
The District Council is keen to support the race and is offering grants of up to £100 to local businesses and community groups to assist with the staging of events or activities to welcome and promote the cycling event (see www.derbyshiredales.gov.uk/things-to-do/whats-on/aviva-women-s-tour). Also during the weekend 17–19 June, the 3-day lifestyle and cycling festival Eroica Britannia will be returning to Bakewell for a third year. See www.eroicabritannia.co.uk.
Conksbury Orchard Group: mid summer update
It is now summer and the young trees in the new Conksbury Community Orchard are looking very happy in their new surroundings. The pear trees have finished flowering and many of the apple trees have had blossom on them.   Following the advice of the orchard expert, Julian Brandram, who visited us last October, we shall take all young fruit off the trees this year. This means all the energy produced in the trees will go towards developing strong healthy trees and not into fruit.
Significant quantities of fruit will be expected four to five years after planting. In the mean time, some fruit will be produced next year and in subsequent years. The fruit will be there for the community but how collection will be arranged has yet to be discussed. When it is appropriate, notices will appear in the village and in the Bugle.
Through the summer we will be having working parties on Saturday mornings from 10am until 12 noon.  These have been arranged for 11 June, 9 July and 30 July. Anyone interested in helping at these will be very welcome. Please bring garden forks, spades and gloves if you have them.  Wheelbarrows have also proved useful. For further information please contact Chris Powley, Youlgrave Community Land Trust Conksbury Orchard Group,  01629 636994.
New conductor and banner for Youlgrave Silver Band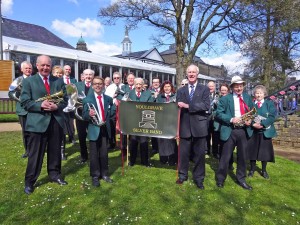 Youlgrave Silver Band played their first performance of the year at Buxton Pavilion park bandstand on Sunday 17 April. We displayed our new banner to the crowds and gave an impressive performance, despite the cold. The New Year had started with great enthusiasm, and with the unexpected profit from last year's concerts we bought some new music and stands. Our AGM was held in March and produced a change of treasurer. Unfortunately our conductor then resigned, but fortunately we are lucky enough to have Ian Wildgoose from Bakewell to take over the job, and so far it is proving to be a delightful situation. The Junior band is also progressing well and will perform their new pieces. It's conducted by Helen Mellor and led by Harry Houghton, who has just been awarded a grade 4 merit, a high exam achievement at only 10 years old.
We would love you to come to our next performance on Thursday 19 May at 7pm in the Methodist Church, Youlgrave. Refreshments (which are always so wonderful!) will be served following the music. Please come and support us and listen to our new music. And if you feel inspired to take up an instrument, or you are new to the area and already play, please join us on a Thursday evening, 7.30pm at the Methodist Church Hall in Youlgrave.
Judith Orchard
Hooray! High speed broadband arrives in Youlgrave (for some, at least)
High speed broadband is now available in Youlgrave, after the laying of new fibre optic cable in the village, but whether you can access it depends on where precisely you happen to live. Digital Derbyshire, the £34 million partnership between the county council and BT which is rolling out the new service, says that 'Youlgrave Cabinet 1' is now live and serving over 220 premises throughout the village. However, it seems that the further away you are from the new cabinet on Conksbury Lane the less likely it is that the new cabling will reach you (for instance, most addresses in Coldwell End can't access the new service). However, Digital Derbyshire say that a second cabinet is due to be installed by the end of the year, which is hoped will cover the majority of the village when it goes live.
To find out whether you can receive the enhanced service go to the on-line BT broadband checker and type in your phone number (if it says 'Fibre Multicast' at the bottom of the options list then you should be able to access the new high speed facility). Once you have found out whether your address can receive the faster broadband service, the next step is to decide which provider to go with – for instance, upgrading your existing broadband contract or shopping around and switching to another ISP (internet service provider).
Already several Youlgrave households have taken advantage of these faster broadband speeds. Ian on Main Street told the Bugle: "Like many, I had struggled with very slow broadband, often getting just 2 Mb, and large files could take 10 minutes to download. So when fibre came to Youlgrave I jumped at it. I was already a BT customer, so I stayed with them, and upgraded, at an extra cost of around £12 a month. I now get speeds of 40-45 Mb which is just what BT said I ought to average. Those large files are now ready to use in just 30 seconds."
Mark on Church Street has also upgraded to this faster service. His provider is Plusnet and overall he's pleased with the service. "Because I use video for virtual meetings I went for the maximum package (theoretical 76 down and 20 up) and am able to get the order of 54-62 Mb download and 15-20 Mb upload. I've had the odd niggle where for some reason the download is limited to 20 Mb. However, a call to Plusnet generally resolves it and considering the other benefits it's worth putting up with it!"
Of course, if you don't regularly send or receive large digital files, stream films or have much day to day on-line business then you may have no need for faster broadband in the first place. To find out more and for a step by step guide go to what to do next go to: www.digitalderbyshire.org.uk.
Phil Beer playing live at Youlgrave Village Hall, 31st March
Phil Beer is one of the most popular ambassadors for acoustic roots music. A dazzling instrumentalist and top flight fiddle player he also plays slide, Spanish, and tenor guitar, mandocello, viola and mandolin.  He was a member of the Albion band in the mid-late 1980s, and in the early 1990's he teamed up with Steve Knightley to form the highly acclaimed and award winning 'Show of Hands'. As well as a continuing successful solo career Phil also is in demand as a music producer.
Phil recently performed at the Guildhall Theatre in Derby as part of his spring tour, and is due to play at Youlgreave Village Hall on Thursday 31 March (8.00pm). Tickets are £14. Please contact 01629 630 282 for details.
DERBYSHIRE COUNTY COUNCIL ANNOUNCE TEMPORARY ROAD CLOSURE ON ALPORT LANE, ALPORT
WHEN: 11 April 2016 to 29 April 2016, WHERE: close Alport Lane, Alport from its junction with the B5056 to its junction with Dark Lane, REASON: to facilitate retaining wall repairs.
ALTERNATIVE ROUTE: Alport Lane (from point of closure) Church Street, Coldwell End, UnNamed Road towards Middleton, Rake Lane, UnNamed Road toward Friden, A5012, B5056 and vice versa. Access will be maintained, whenever reasonably possible, on the affected length of road. The road will re-open as soon as the work is finished. This may be earlier than advertised. Derbyshire County Council apologises for any inconvenience caused while work takes place. Anyone needing further information should ring Call Derbyshire 01629 533190. The County Council intends to make/has made an Order under Section 14 of the Road Traffic Regulation Act 1984 (as amended) to prohibit its use by traffic.
Mike Ashworth, Strategic Director, Economy, Transport & Environment, County Hall, Matlock DE4 3AG
Parish Council discusses illegal lorry movements
At its February meeting, Youlgrave Parish Council received a report on the emergency repairs to the village water mains, most recently at Church Corner. They are cracking under the continued misuse of the 7.5 tonne weight restrictions by heavy goods vehicles through the centre of the village – and consequently costing all households via increased Waterworks call-outs. HGVs are banned from driving through the centre of Youlgrave unless they are making deliveries within the village, accessing a farm, etc. The Parish Council urges residents who see a vehicle they believe is flouting the ban to record the number plate and any name on the side of the vehicle, as well as the date, time, location and direction of travel of the HGV, and report it to:
PICTURED BELOW: On 12 February this HGV became completely stuck between buildings at the bottom of Moor Lane, so much so that residents couldn't even walk past to reach their homes. The lorry had a Czech Republic number plate and the driver apparently blamed satnav for taking him down the narrow and single track lane! The Police were called and the vehicle eventually extricated and escorted away.
Village recycling bins to be removed
Youlgrave's familiar recycling bins at the western entrance of the village are to disappear, after Derbyshire Dales District Council (DDDC) decided to close all its 'bring sites' across the district, citing the success of its kerbside recycling scheme and the rising costs of administering the 23 separate locations. In a public consultation organised by the District Council at the end of last year, Youlgrave residents responded with a 428-name petition coordinated by the Parish Council that called for the recycling bins at Coldwell End to be retained, but instead District Councillors voted last month to close all the sites. DDDC say that since improved kerbside recycling collections were introduced in 2012, the quantity of material collected from bring sites has reduced by 75%. They also claim that more non-recyclable items are being dumped at the sites, resulting in 43% of the material being contaminated and disposed of at landfill, which is costly for the council and the environment.
One of the reasons given by Youlgrave residents for retaining the village bins was to accommodate excess recycling material, so the Parish Council sought clarification from DDDC on its current guidelines. They responded by saying that additional material will be collected if placed at the side of the household recycling container and provided it is easily identifiable as recycling material (use transparent containers or stacker boxes rather than black bags). Alternatively, extra blue bags can be provided for additional recycling if it's a regular issue (call  01629 761122 or email waste@derbyshiredales.gov.uk). Please ensure different types of excess recycling is separated. Flatten and where possible remove staples and packaging tape from cardboard, as well as polystyrene and bubble wrap. Boxes and large pieces of cardboard should be flattened and placed next to the container for collection. If you regularly produce lots of excess recycling you should contact the Council at the above number to request an additional recycling bin. "We are always happy to discuss recycling options with our residents," said DDDC.
Click collection_calendar_wedwk2 for 2016 Household Collection dates.
Edwina Edwards awarded MBE
Congratulations to Youlgrave's Edwina Edwards (right), who was awarded an MBE in the New Year's Honours List for services to the community in Derbyshire. Edwina is Chief Executive of Bakewell & Eyam Community Transport, which helps people who struggle to use conventional public transport and is often a lifeline for elderly and disadvantaged residents. Born and brought up on the Staffordshire Moorlands, Edwina has lived in Youlgrave for many years and runs Youlgrave Brownies. Previously she was the County Commissioner for Derbyshire Girl Guiding.
Tree planting at Hannah Bowman Way Community Orchard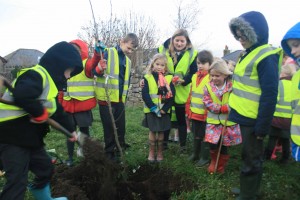 At the end of last November the sponsors of trees for the community orchard in Hannah Bowman Way successfully planted twenty eight fruit trees, which included different varieties of apples, plums, pears, damsons and one cherry tree. Before that, on Friday 27 November, all the children from Youlgrave School, together with their teachers and helpers, came to plant three trees, one for each class (see photo).  As the years go by we hope the children remember the day they planted the tree and enjoy eating the fruit. Other sponsors arrived on Saturday 28th armed with spades to plant their chosen trees. The day was successful with the last trees going in as the predicted heavy rain arrived to soak us all. Plans are now being made to ensure the trees are properly taken care of and so the orchard becomes a place that all villagers will be able to enjoy. We were very lucky to be awarded a Big Lottery Awards for All Grant to help finance the work. It meant we were able to hire a mini digger to dig all the holes before planting day. Other money will be spent setting up rain water collection and equipment for the regular maintenance. Anyone wishing to become involved in the orchard please get in touch with Chris Powley on 01629 636994.
New bike track for Youlgrave playing field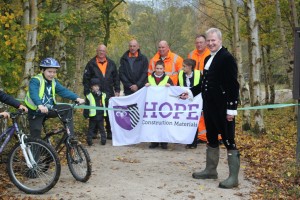 A new cycling trail, designed by Youlgrave schoolchildren and developed by the Parish Council with generous help from Hope Construction Materials, has been opened on the Alport Lane Playing Field. The looping track includes bumps and jumps and was based on designs drawn up by children at All Saints School. Located behind the trees near the existing play area, it's suitable for BMX and mountain bikes and is already very popular and well used.
The High Sheriff of Derbyshire, Oliver Stephenson, officially opened the new trail at a special ceremony last month, which also saw him plant a sapling from the Royal Estate at Windsor which was given to Youlgrave Parish Council during the Diamond Jubilee. The BMX trail required 60 tonnes of limestone aggregate, donated by Hope Construction Materials which runs Dowlow Quarry and Hope Cement Works. Daran Murray, Hope's Dowlow Quarry Manager, said: "We are keen to support local community projects where we can. Often practical help like this donation and delivery of Dowlow Quarry aggregates can make a big difference to a small village like Youlgrave. We were delighted to be able to help and look forward to hearing how much the cyclists enjoy the new track!"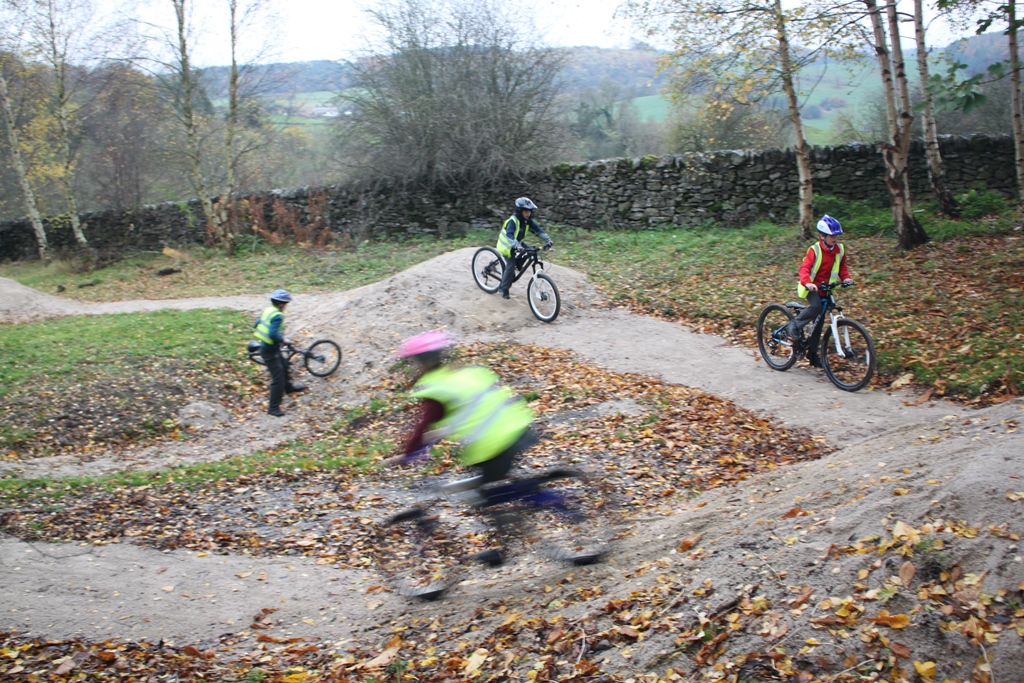 The BMX trail is the latest in a series of major improvements to the village playing field carried out by Youlgrave Parish Council, which has also included building a Multi-Use Games Area, laying a new path and installing a shelter.
Youlgrave Horticultural Show 2016 cancelled
Unfortunately due to a decline in members on the Horticultural Society, the increase in costs of running the show and other circumstances, Youlgrave Horticultural Society has sadly announced there will be no Village Horticultural Show this year.
A lot of work goes into the organisation of the show from printing, sourcing judges, setting up and taking down the tables and stage along with collecting the entries, handing out the prize money and trophies and of course the sale at the end. However, if anyone would like to revitalise the show with fresh ideas to rejuvenate this long tradition, the existing members of the society are more than willing to help and offer advice in any way they can. Over the last few years the craft and children's sections have grown from strength to strength, but unfortunately the vegetable and flower entries have slowly decreased. If anyone wishes to contact the society with offers of taking over the show, please contact Sandra Harrop on 01629 630003 or Lesley Toyne on 01629 636484.
To return to the news page click here