Youlgrave Scouts tidy up gardens by the Holywell Lane toilets

Earlier this year the Scout badges and rewards were given an overhaul  with some badges being dropped, but also with the introduction of some new badges, one of which is the Community Impact badge.  This is a staged badge, which means the more work a Scout puts in the  higher level of badge the Scout gains. All the sections (Beavers, Cubs and Scouts) have been working towards this badge this spring. The Beavers and Cubs first had to design a poster about littering and were ask to display it near their homes. They also did a litter pick around the edges of the playing fields, which filled two bin liners of rubbish. The Scouts needed something more challenging, so after consultations with the Parish Council they asked if the Scouts would be willing to tidy up the two pieces of ground at the sides of the toilet block on Holywell Lane. With the help of Cllr Glenys  Moore, over a three week period they removed about half a ton of rubble, weeds  and overgrown shrubs. Then they dug over the soil and added some new compost and replanted the areas with new plants. So hopefully it now looks a lot better for locals and visitors who use the toilets.
All Saints School commemorates VE Day
On Friday 8 May we celebrated VE Day, 70 years since the devastating World War 2 ended. There have been many celebrations taking place over Britain. Also on the radio there have been lots of soldiers talking about VE Day. Youlgrave School went to the church and parents, School Governors and local people came. The three classes did something different. Class 1 did a washing dance next to 'We're going to hang out the washing on the Siegfried Line', which was very good. After that, Class 2 read out their diary entries and they were really emotional in all different ways. Delilah read out some of her great grandma's personal memories with Jon. People were joyful and emotional. They were joyful because the war had ended but they were also emotional because they had lost their loved ones. Class 3 wrote special poems for the occasion. I was a bit nervous reading my poem with Emma because we were in the first set to read our poem. I went in the corner because I was doing the music with Emma and Ruby. Mrs Stelling, who is our school's Head Teacher, said a few words before the first song. I had a bit of a stomach ache because we were up to read our poem. After Emma and I read our poem, I was very relieved it was over!
At 3 o'clock, we had a 2 minute silence which was sad because I really had the picture what it would be like to lose someone special. Mr Hutchinson read some words which made me think about losing someone even more! I would be extremely sad. After, we sang World War 2 songs. We sang 'We're gonna hang out the washing on the Siegfried Line', 'Run Rabbit Run', 'Wish me luck as you wave me goodbye' and 'We'll meet again'. Finally, we went back to school and had a tea party where we all had lots of fun. We had cakes, rock buns, sausage rolls, shortbread, cheese straws and cups of tea, coffee and juice. The atmosphere was very busy with happy people chatting. We had lots of goodies and the tables were beautifully set out. The food was delicious but the non cooked chocolate cake was the best! The celebration went on for ages!
By Erin M, Charlie P, Lily B and Ruby H (Class 3, All Saints School)
New fencing protects riverside and water voles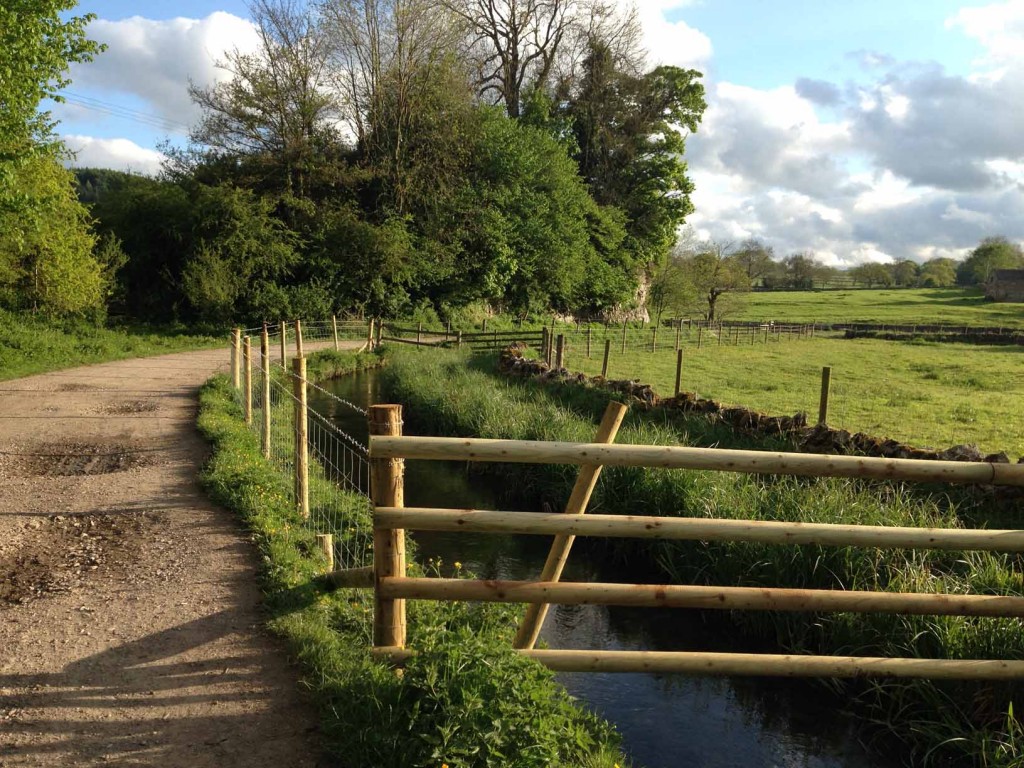 There is good news in terms of protecting the river and its wildlife. The area at the bottom of Bradford where the river flows under the road to follow the coach road is an area rich in wildlife. It is home to water voles and our very precious native crayfish. After extensive discussions with local farmers, the Bradford River Action Group (BRAG) and Haddon Estate have joined forces with riverside farmers to install a buffer fence. The fence will keep cattle from grazing the river plants and from stamping in its soft banks. Of course, the fence will also protect our water voles and river birds from dogs too.
Warren Slaney, Haddon Estate's River Keeper said: "Buffer fencing is the best thing we can do to protect rivers." Maggie Ford, chair of BRAG said: "I'm delighted, it's a wonderful way to use some of the profits that have come out of Christine Gregory's beautiful book A River in Time. We are also looking at flow issues and water seepage from the river." Christine Gregory added: "This is such a positive development. Water voles are a critically endangered species and so anything that we can do to protect their chosen habitat is really important. The fact that they have returned to the Bradford over the last few years after lengthy periods of absence is testament to the water quality of the river and the rich biodiversity that it supports. Water voles need dense margins of vegetation for food and for protection from predators and disturbance. We will all benefit by further encouraging these enchanting animals back to our lovely river."
Maggie Ford
New housing scheme up and running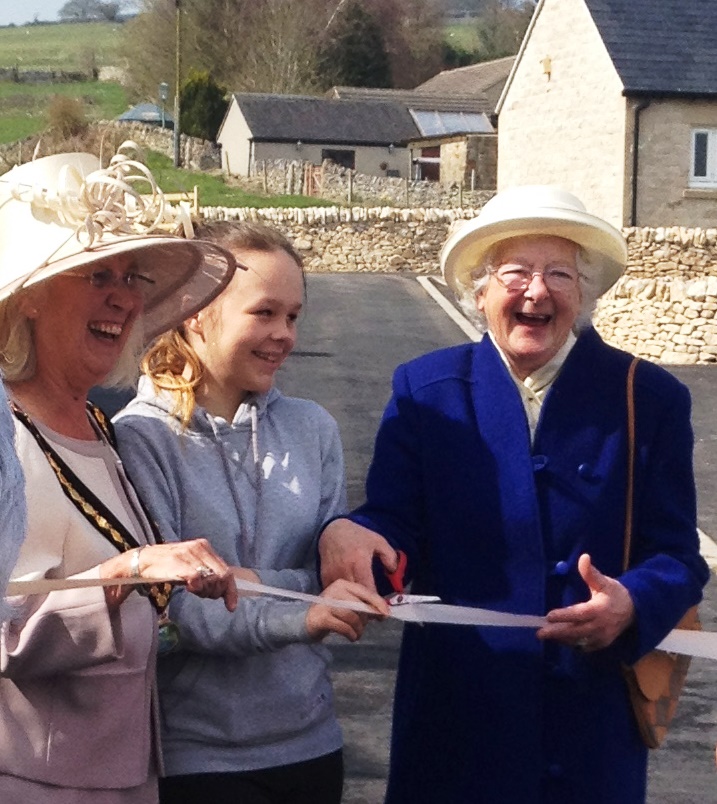 Above: Cllr Carol Walker of Derbyshire Dales District Council joins Poppy Prince (Youlgrave Carnival Queen) and Lillian Clark (Youlgrave CLT Board Member) as they cut the ribbon to open the houses.
On Friday 10 April Youlgrave Community Land Trust (YCLT) hosted the official launch of the Conksbury Lane housing scheme. Lillian Clark cut the ribbon, assisted by Poppy Prince, our current Carnival Queen. We thanked all the organisations who have helped us along the way: the Homes and Communities Agency for our Government grant, Derbyshire Dales District Council for finding £300,000 of extra capital to help us achieve a higher sustainability level, Peak District Rural Housing Association for being such steadfast partners, Lindum our builders who everyone agreed did an excellent job, and innumerable people from the village who have supported the project from the beginning. So in its first two years YCLT has brought £1.2 million of investment to the village. Many people have commented how well-constructed the houses are and how good they look in the street scene. The new residents of Hannah Bowman Way will bring new life to Youlgrave, strengthen the local economy and support the school. They all come from the village and one new resident commented that she had grown up with four of her new neighbours. We warmly welcome them to their new homes. The landscaped part of the site is being seeded as a wildflower meadow, then managed by YCLT as a community orchard. We have offers of tree donations from a number of people who want to dedicate a tree to a relative. Trees might also commemorate the men of the village who died in the two world wars and Youlgrave School want to be involved in the planting which will commence in the autumn. YCLT
School supporters buy new laptops for children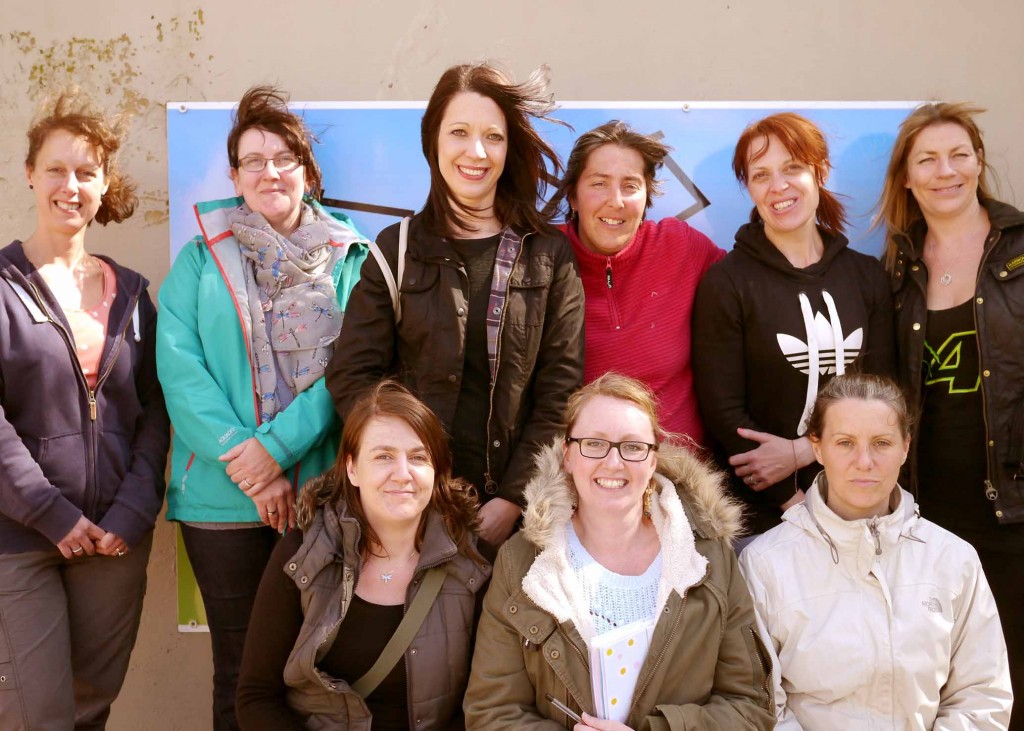 Youlgrave All Saints School Association (YASSA) – pictured above – and the Friends of Youlgrave School have between them funded the purchase of 30 new laptops for All Saints School. The School Association decided to put in all the money they raised last year and Acting Headteacher Glyn Julian said it was a terrific contribution that would have a "big impact on the children's learning" for a long time to come.
Blue Bag collection
It's almost that time again when a blue bag comes through your door, hoping to be filled with all your unwanted clothes and paired shoes and soft toys. If you need more bags just use ordinary bin bags and if you want them collected from your house because you have lots and lots of bags please contact the School Association. The bags will be collected from outside houses on MONDAY 27 APRIL – please put them out for 8.30am and they will be picked up with a smile and many thanks. Last year from two collections the Association made over £500 – and, with all the money going into equipment like laptops for Youlgrave schoolchildren, let's see if we can beat that figure this time! If you have any queries please call Karen at the School Association on 636536. Thank you once again.
Granby House still going strong after 25 years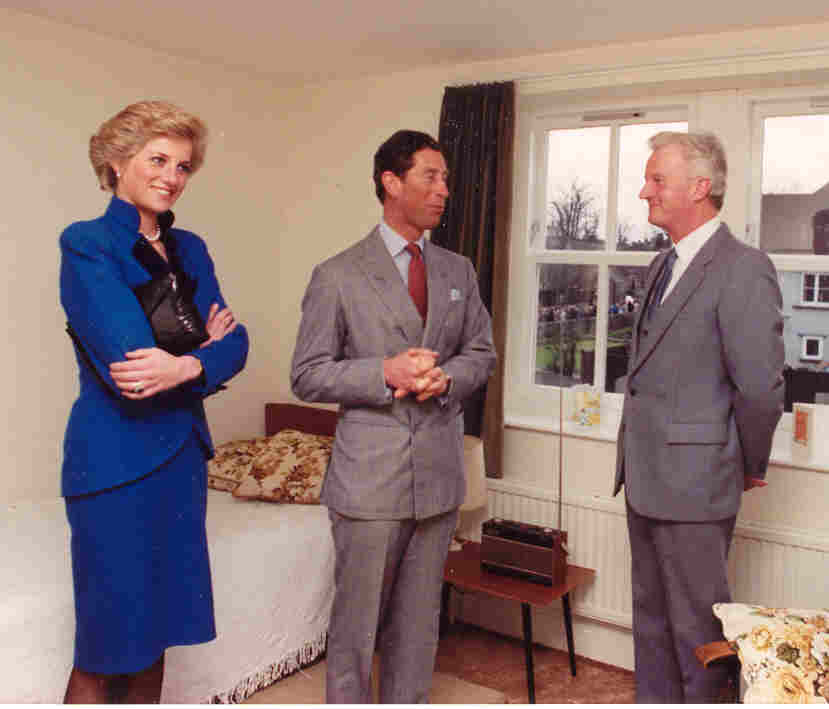 On 9 March Granby House residents celebrated 25 years of operation with a small party. Exactly 25 years earlier, in 1990, when the house was officially opened by the Prince of Wales accompanied by the Princess of Wales (see picture above), the celebration was on a grander scale. On that occasion Alport Lane was lined with onlookers as the royal party walked from the playing field, where their helicopter landed, to Granby House for  an informal get together with the residents and committee. Later they walked on to the school where the formal opening ceremony was performed.
This year's celebration was rather quieter, but Housekeeper Tracie Brown produced a beautiful cake decorated with the society's logo for the residents and guests to enjoy and a good time was had by all.
Youlgrave Brownies take world view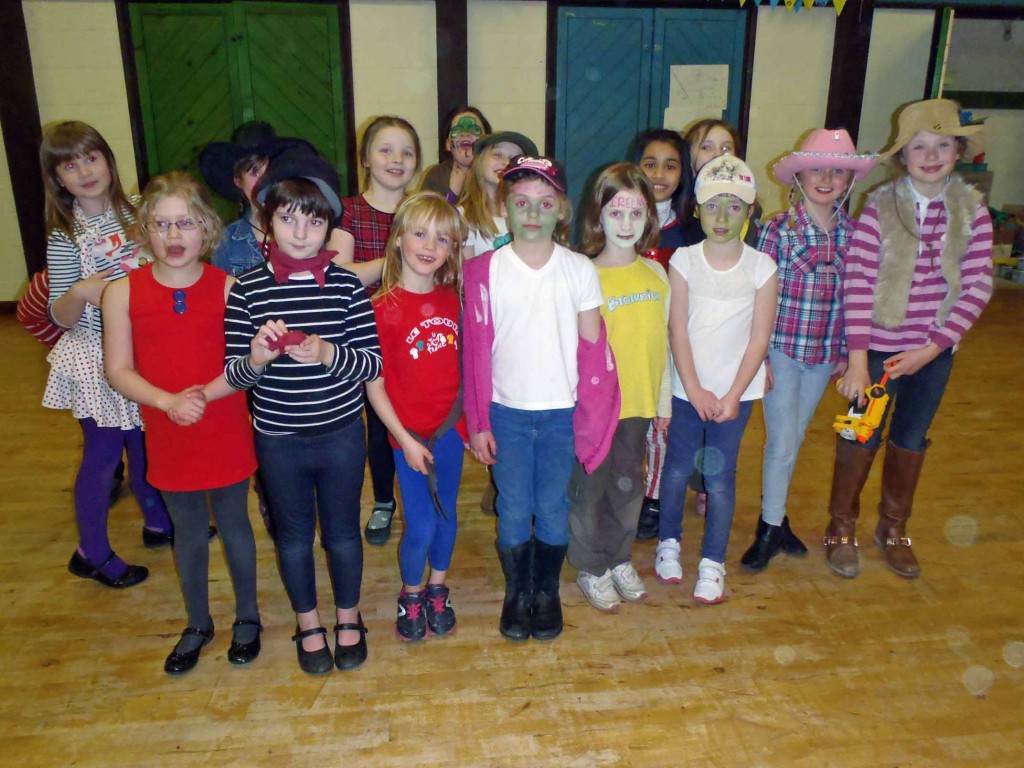 Above: 1st Youlgrave Brownies celebrated Thinking Day (22 February) by learning about China, France, Ireland and America. Games, poetry, singing and fun was enjoyed by everyone.
Children tell the story of Easter
This Easter All Saints Church will again be filled with six displays depicting the story of Easter, from Palm Sunday to Easter Sunday. However, this year Youlgrave School have offered to produce three of them, which is very exciting! Please support the School and church by visiting All Saints. Follow the white footprints round the church in order to view everything in the correct order. The displays should be up from Wed 25 March to Friday 10th April. The church is open daily from approximately 9am to 5pm. Happy Easter!
Stretch your legs and 'Jog Youlgrave'
Our jogging sessions for absolute beginners and all runners have started again. Meet at the Scout and Community Hut on Alport Lane every Saturday from 10.30-11.30am. Ring me if you'd like to get out at another time. Come and learn to enjoy jogging with a friendly group and trained leader – it's much easier than trying on your own! Everyone is welcome and it's free, apart from an occasional small donation for use of the venue. Any enquiries please contact Pete Tapping 0775 2463918.
Youlgrave schoolchildren's knitted blanket warms Granby House residents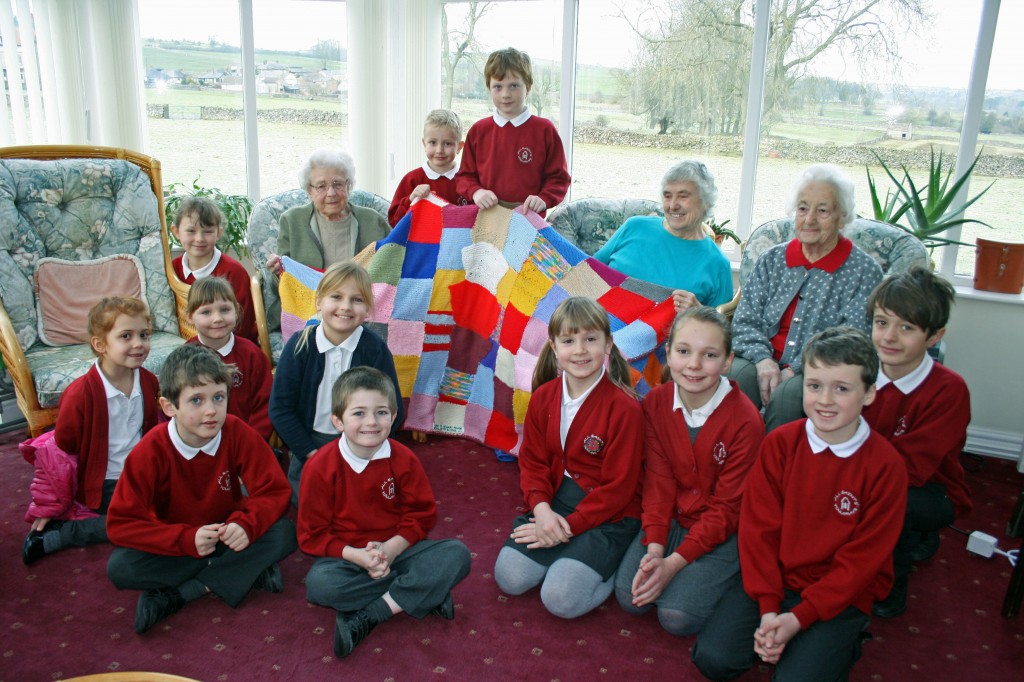 The children of Youlgrave All Saints Primary School recently visited the residents of Granby House, which provides housing for older people in the village, to deliver their much prized blanket (pictured). As part of the school's WW1 topic, Friday afternoons for the last half term were devoted to knitting and learning how to embrace this age-old skill. The blanket is the result of their labours with every child, from ages 4 to 11, knitting at least one of the colourful squares. The school invited members of the village community to come and assist the children, and even inspired some of the less likely candidates to contribute. The resulting blanket is colourful and warm, and will be treasured by Granby House residents.
"It's a wonderful team effort and the children should be rightly proud of their creation," said Glyn Julian, Acting Head of Youlgrave School. "It helped them not only understand a little more about World War 1 but it also allowed them to give something back to important members of their community."
January has also seen the launch of the new Breakfast Club at All Saints, designed to extend the school day for working families. Catering for school children from 8am, a simple breakfast is provided with supervised indoor activities for only £3 per session. To enquire please contact the office on 01629 636289. In other news, we would like to welcome Miss Katie Blood as a permanent teacher for Class 2. After helping out on a voluntary basis before Christmas, she has settled in well and already feels part of the school family.
World War I Centenary Football Match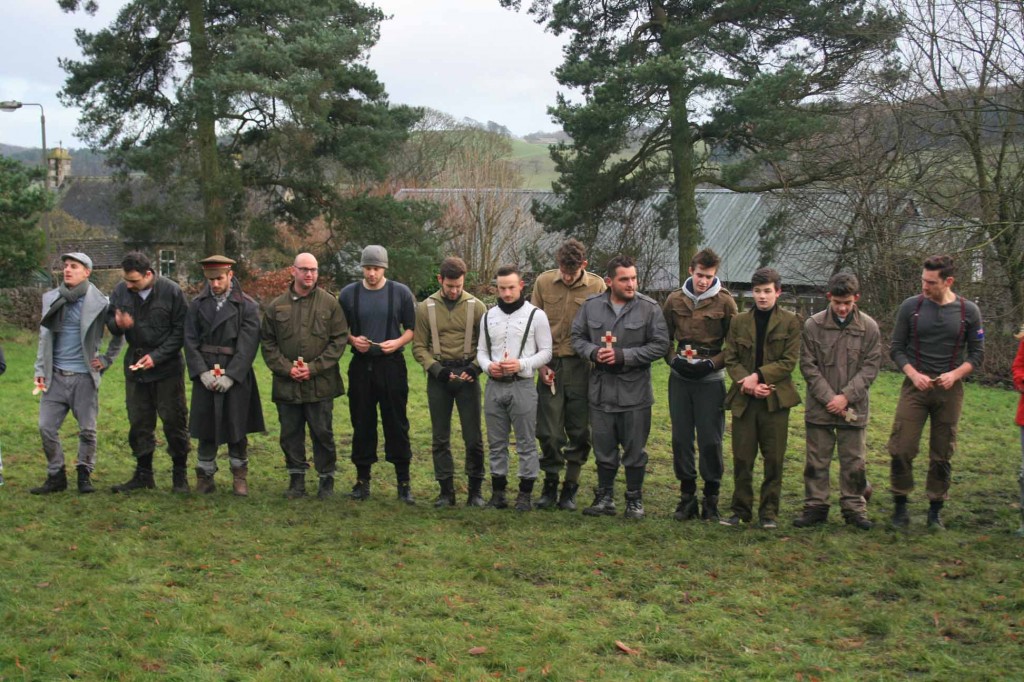 On Saturday 20 December more than 100 people gathered in the paddock at the top of Holywell Lane to witness a short re-enactment of the historic Christmas Truce of 1914. Some 14 players from Youlgrave Football Club (recruited by Jonathan Figg) took part, emerging from behind their respective sandbagged 'trenches' as the Germans sang Stille Nacht (Silent Night). Each side symbolically removed the 'bodies' of fallen comrades from No Man's Land. This was particularly poignant as it recalled the actions of the local 1st Battalion Sherwood Foresters a century ago. The two sides then exchanged gifts of tobacco, bully beef, cake and biscuits. A leather football was produced and sandbags became improvised goals – both sides then engaged wholeheartedly in the football match with plenty of vocal support from the spectators.
The grey-clad Germans took an early lead and their goal advantage increased, but the plucky khaki-clad Tommies rallied and in a tense final few minutes managed to equalise and produce an honourable draw as the final whistle sounded. Both teams then lined up to face the spectators and wooden crosses and poppies were given to each player. The modern folk song Coming Home was played, reminding us that young men and women are still making the ultimate sacrifice for their country, with the haunting Bonne Light Horseman recalling losses of earlier Napoleonic conflicts. After the music there was a one minute silence before the playing of The Last Post and the young men planted their crosses and poppies in the No Man's Land pitch, a very moving echo of the sacrifice paid a century ago. The players and supporters then marched off to the Wesleyan Reform Chapel for refreshments, including the popular Trench Cake and singing of wartime songs. We are sorry that we were not able to accommodate everyone who wanted to come in.
Some of the commemorative events to date have involved the children and members of the older generation and it was pleasing to see the young men embracing the event so enthusiastically and respectfully, even dressing the part. The Youlgrave 1914-1918 Community Group would like to thank all those who helped in any way with this event.
Please help the Monday Club keep going
Youlgrave Day Centre offers valuable support for our older residents, but it urgently needs more helpers. Can you spare just a few hours each week?
Youlgrave Day Centre, also known as the Monday Club, was started in 1983 mainly as a result of an initiative by members of staff from Youlgrave Surgery. It meets most weeks with the exception of peak  August holiday time.  Its purpose, as with other centres, is to offer social activities, friendship and a hot, two-course meal to anyone over 60 years old. Essentially it is an opportunity to meet for those who, often  through age or infirmity, find it difficult to meet outside their own home.  Transport is arranged where necessary through the excellent Bakewell & Eyam Community Transport project.
Most activities take place at the village hall and the project  is heavily subsidised by the Village Hall Management Committee, being a prime  example of the charitable aims of the hall. Occasionally outside trips are arranged such as lunch at a local pub, perhaps combined with a Community Transport trip around the countryside or a visit and picnic in Chatsworth gardens. Local amateur choirs have provided entertainment, especially during the festive season, occasional talks by a local personality, and an after-lunch bingo session is a popular activity. Board games such as scrabble and dominoes are also popular.
Initially the Centre catered for up to 40 regular attendees, including a group travelling from Winster. More recently numbers sitting down for a meal usually number 18-20, including a number of volunteer helpers who are themselves often of pensionable age. Meals are provided on a three weekly rota by three of Youlgrave's best (volunteer) cooks! For the last 12 years the Day Centre has been organised by Lise Marple, but family circumstances mean that Lise now urgently needs to find a successor. The responsibilities involve finance – collecting a small meal charge and paying all expenses, checking availability and organising volunteer helpers, and arranging trips, transport and entertainments. The role could possibly be shared with two or possibly more people working closely together.
More volunteers would also be warmly welcomed. They help to serve meals and morning/afternoon tea and coffee, to wash up afterwards, to compere the important bingo session and to generally assist attendees with their needs. Recently the Day Centre had to be cancelled due to a shortage on the day of enough volunteers. The need for a new organiser is also very important, with the risk that the Day Centre could have to close if no one comes forward.  With the baby-boomer generation entering the veteran stage, the  demand for the Day Centre facility is likely to increase in years to come. The only reward for putting your name forward is the knowledge that you have helped someone else in need – but that in itself can bring great satisfaction.
Please ring 01629 636287 if you would like more information or come down to the village hall from 10.30am onwards on a Monday to see the team in action.