PARKING OBSTRUCTIONS ON GROVE PLACE THREATEN YOULGRAVE BUS SERVICE
Local bus operator Hulleys of Baslow has written to Youlgrave Parish Council complaining that their vehicles are often unable to turn round in Grove Place because of parked cars, and if the problem persists they may have to curtail their services to the village beyond the George Hotel.
Hulleys letter reads: "Since the turn of the year car parking on the T-junction of Grove Place has become such that is often impossible to turn buses round there. A large vehicle needs to be able to turn left or right at the junction and reverse back across the junction before turning back down Grove Place. When cars park all the way up to the junction this manoeuvre becomes all but impossible.
When this is the case buses are forced to drive through to Middleton to turn, for which there is no provision on the timetable and causes unreliability throughout the rest of the service. Unfortunately, unless this problem is addressed we will be forced to turn buses at The George, meaning all Youlgrave passengers, including the elderly and the infirm, will have to make their way to The George bus stop in order to catch the service."
Youlgrave Parish Council has asked Derbyshire County Council, as the Highway Authority, whether formal parking restrictions are possible at this location, but the provisional response is that it is unlikely. In the mean time, the Parish Council requests that residents of Grove Place park considerately and allow buses room to turn round, so that the service can continue throughout the village for the benefit of all residents.
WALKING FOR HEALTH IN YOULGRAVE
Are you interested in getting active again? Would you like to join a local walking group in the village? Then why not come along to the new 'Walking for Health' group that is being established in the village in September. The first walk is scheduled for Tuesday 23 September and we will be meeting at Coldwell End car park at 10.30am, so if you are interested please come along and join the group. Initially, we are planning to walk in the Youlgrave area on the second and fourth Tuesday morning of each month.
Think about it… your legs were made for walking. It's a wonderful form of exercise that can keep you healthy, living longer, make new friends and even put a smile on your face. Walking as part of a group is a good way to start and you will find that everyone encourages each other to keep going. There are some beautiful walks in the area, you may discover new ones that you did not know about. Our aim will be to provide walks to suit different levels of fitness.
What you can expect: Trained walk leaders, good company, safe routes to walk, with shorter walks for beginners. All our walks are free and the pace is set by the walkers themselves. It's perfect for people who don't fancy intense exercise – you can start off slowly and build up gradually till you feel more confident. Please wear some good comfortable shoes and taking weather conditions into account you may need a waterproof or brolly. Also bring some change, just in case we stop off for a cuppa either en route or afterwards.
If you would like more information please contact Pete Tapping (07752 463918) or Linda Neale (01629 650625). For further details about Walking for Health across the Derbyshire Dales contact Howard Griffith, Walking for Health Officer, 01629 761194 or email howard.griffith@derbyshiredales.gov.uk or go to www.derbyshiredales.gov.uk/walkingforhealth.
WELLDRESSING WEEK – NOW UNTIL 26 JUNE
The well dressings are on display and floodlit in the evenings until Thursday night. Several commemorate the 1914 – 1918 War. Sections illustrated below – come and see the full boards.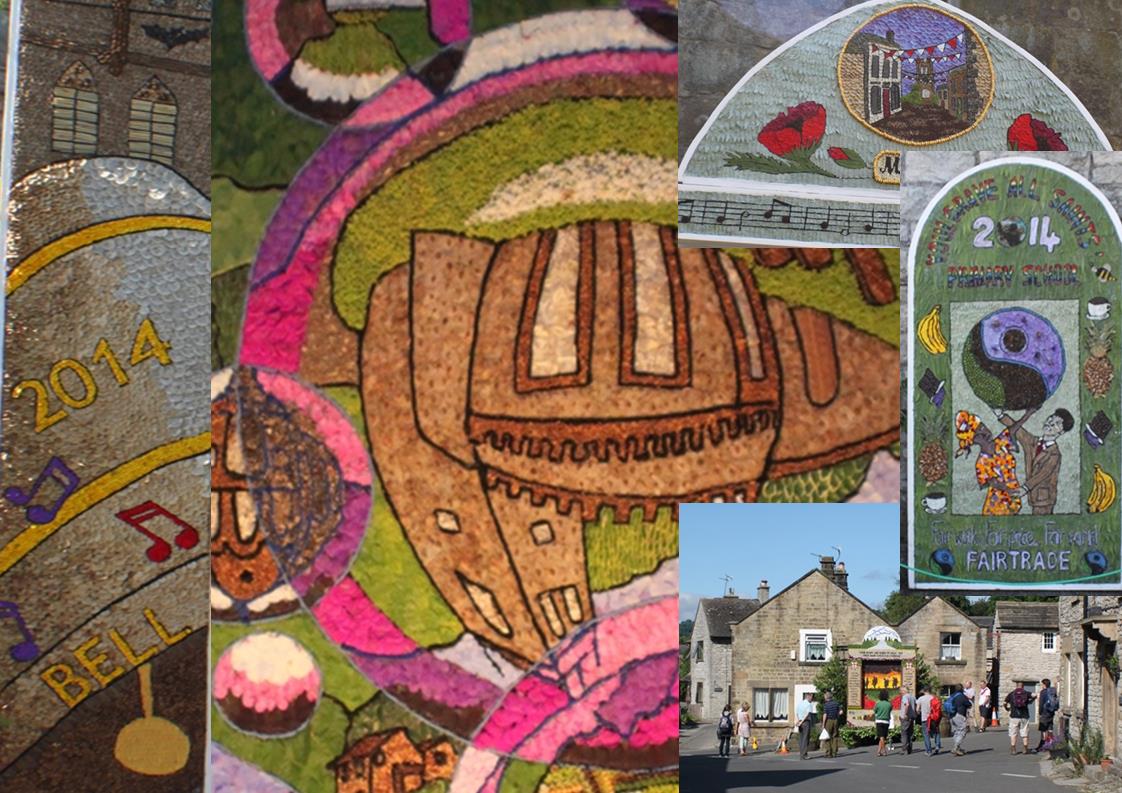 YOULGRAVE YOUNGSTERS ENCOURAGED TO GET FIGHTING FIT WITH 'OZBOX' TRAINING SESSIONS
Youngsters in Youlgrave and surrounding areas are being invited to put on their boxing gloves and take part in free OzBox training sessions. The taster sessions will give young people, aged 11 to 19-years-old, an insight into the scheme which centres on sessions of non-contact boxing and fitness training.
The hour-long taster classes will run from Youlgrave Village Hall from 11am on Thursday 29 May and 2pm on Friday 30 May.
The OzBox sessions focus on encouraging young people to keep fit, lead healthy lifestyles and to take pride in themselves and their community. OzBox also helps to deter youngsters from getting involved in anti-social behaviour and crime by providing a fun activity in a safe environment. The scheme, which is recognised and supported by the Amateur Boxing Association of England (ABAE), is run by dedicated volunteers and all the equipment is provided at the classes. Anyone wishing to take part is asked to wear sensible clothing with trainers or sports shoes.
For more information call your local Safer Neighbourhood team on the 101, the non-emergency number for Derbyshire police.
CONKSBURY AFFORDABLE HOUSING – INAUGURAL CEREMONY
The Conksbury Lane turf was finally turned in an inaugural ceremony at Youlgrave's new affordable housing site on 11 April.
The occasion was supported by the Government's Homes and Communities Agency, Derbyshire County Councillor Simon Spencer, Derbyshire Dales Chairman Cllr Peter Slack and Deputy Leader Cllr Geoff Stevens, Peak District National Park Authority planners, Peak District Rural Housing Association Chairman Sam Matthews and 25 members of Youlgrave Community Land Trust.
Cllr Slack spoke of the importance to Derbyshire Dales of affordable housing provision, when local young people cannot afford to live in the villages in which they were brought up. PDRHA Chairman Sam Matthews agreed and paid tribute to the work of the Village Plan group and the establishment of Youlgrave CLT. He said that the need for affordable housing was so important that it should not have to take so long to accomplish what is, after all, a real achievement for the future social and economic life of the village.
David Frederickson, YCLT Chair, thanked Derbyshire Dales District Council and Peak District Rural Housing Association for their constant support and the Homes and Community Agency for providing the bulk of the finance. He said that YCLT now had almost 200 members and many messages of support had been received from those who could not be there to see the project launched. John Howard, Construction Manager of Lindum, who are building the scheme said the firm had received a warm welcome in the village and pledged that they would work with villagers to make the building phase as smooth and as trouble-free as it could possibly be. The houses should be finished in the early months of next year.
YOULGRAVE PLAYSCHOOL: GOOD IN ALL AREAS!
On Friday 4 April our playschool was visited by the Ofsted inspector to carry out a formal inspection. The inspector arrived unannounced on the morning, as is the custom, and stayed for the full session to observe and record her findings about how the setting is run and how well it provides child care and education for all the children aged two to four that attend. At the end of the morning the inspector sat down with the staff to discuss her findings and she was very pleased with everything the setting has to offer, as well as excited about its future. She praised the staff and explained to them that Youlgrave Playschool has performed brilliantly in such a short period of time since it had a complete change of staff in September.
The Playschool Committee and parents and children would like to give a big thank you to Lucy Burlinson (Playschool Supervisor), Jody Coupe (Assistant Supervisor) and Mandy Adlington (Playschool Assistant) for all their incredible hard work – we really appreciate everything you do.
On Friday 11 April Playschool finished for the Easter break, giving the staff a well earned break. That morning's session included the traditional Easter bonnet parade and a local lamb being brought in to playschool for the children to pet and feed. All parents and carers were invited to attend and enjoy a cup of tea in the setting.
Thank you again to all who make Youlgrave Playschool such a happy setting. If anyone is interested in their children attending Youlgrave Playschool please ring Lisa Bingham for information on 01629 630358.
FOOTBALL: BAKEWELL BEAT YOULGRAVE TO RETAIN WILF LINCOLN TROPHY
Fierce rivals Youlgrave and Bakewell football teams went head to head at Bakewell Recreation Ground on 23 November last year, the teams once again contesting the Wilf Lincoln Memorial Trophy established in memory of one of Youlgrave's best known and most accomplished footballers. The match had the added spice of a competitive league fixture thrown into the mix for the first time since its inception in 2011.
The game had been end to end when a penalty was awarded, Ben Rach stepped up, sending the keeper the wrong way, for a 1-0 lead. After a hard competitive second half Baba scored in the 58th minute to make it 2-0 to Bakewell Town. Five minutes was added to the scoresheet and another penalty was awarded, Ben Rach scoring to make it 3-0. Bakewell secured the three points to retain the Wilf Lincoln Memorial Trophy for the third successive year. Town's largest crowd of the season had witnessed a full- bloodied 90 minutes with no quarter given.
A collection was conducted throughout the match for the Alzheimers Society, which raised £253.73. £100 was donated by a local lady. Mrs Lincoln would once again like to thank both Youlgrave and Bakewell football teams, Ross Davies for managing an exciting match and all the supporters who came to watch and donated to this worthwhile cause. Also thanks to Keith Taylor and Ray Bacon, two of the original players who played with WiIf Lincoln in the 1950s who came and supported the teams.
SPONSORED SWIM FOR DEFIBRILLATORS
On Tuesday 25th February Kath Blackshaw and Judith Orchard will swim four miles at the ARC Matlock, in relay, to raise money for the village defibrillator fund. Sponsor forms are available in the village shops and the Youth Hostel. Two years ago, both ladies could swim no more than a few lengths. One could swim one slow stroke, and the other wouldn't even get her face wet! This is the result of tackling fears and learning.
Kath and Judith will personally collect the sponsor money after the swim, so thank you for your support. Please remember to leave your contact details on the form.
BLUE BAG COLLECTION RAISES FUNDS FOR VILLAGE SCHOOL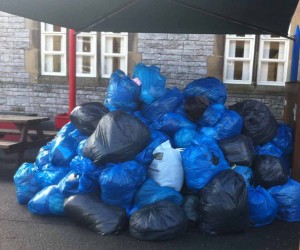 Youlgrave School Association (YASSA) would like to a massive THANK YOU for the continued support for Blue Bags School appeal.
You may have seen frantic mums collecting around the village, causing chaos on 8 April – well, it was all worth it, because as a community we raised £351.50 for 703kg of items. All the money raised goes towards the children for things such as play equipment, computers and days out.
Our next collection is on 30 September, so get saving. We can accept men's, women's and children's clothing, paired shoes (bagged please), hand bags, ties, belts, hats, soft toys and jewellery. Thank you once again.
YOULGRAVE GARAGE CUSTOMER WINS NATIONAL PRIZE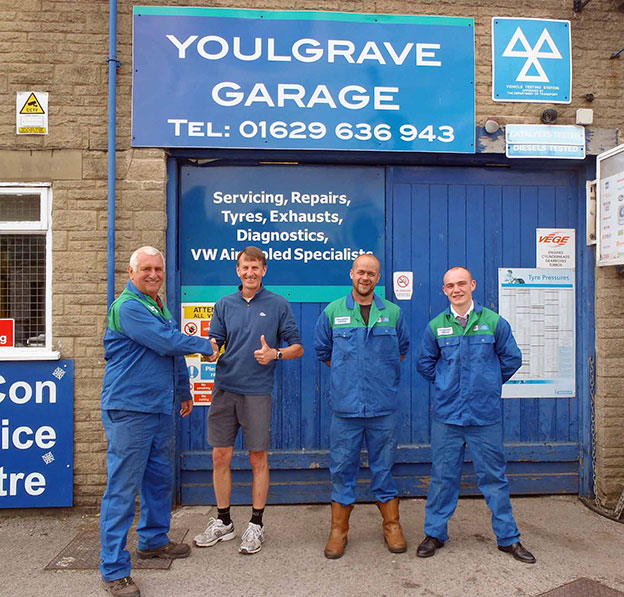 Nobody enters these prize draws you are offered today, do they? The prizes don't exist anyway. Well, when I last took my car to be serviced at Youlgrave Garage, together with my invoice Richard gave me a flyer to enter a national Autocare parts company draw. Coincidentally, and more importantly, I was emailing about some football tickets, so for once I did actually register. Incredibly, six weeks later, and with 8,000 entries, somebody rang me to tell me I was one of the ten winners. I didn't even know what the prize was! Before this I have only ever won dodgy unwanted Christmas presents in raffles (quietly sending them on to the charity shop as discreetly as possible).
For the prize I had a splendid weekend away in Jersey with Raddison – great coastal walking, though the German wartime defences and millionaires' yachts were a weird mixture. Many thanks to Richard, Graham and the team at Youlgrave Garage for keeping me rolling all these years and even giving me the invoice! The Caribbean would be nice when you next fix my brakes, please.  Jon Cant
YOULGRAVE FOOD BANK IN HOLLAND'S SHOP
Just before Christmas, a full box of vital groceries was taken by Jennifer and Roger Easton to Matlock Food Bank (run by the Church in the Peak). The groceries were very gratefully received and so it has been decided to continue the project.
It is sad reflection on our present day society that 500,000 people nationally are reported as using food banks. The press and the government seem to present differing opinions concerning food banks, but the truth of the situation is the stark reality that they ARE needed. Many people are suffering, trying to make desperate choices between food, rent, heating, clothing and so on. If there is anyone in that situation in our village, or if you know of someone, then they should contact one of the referring agencies eg surgery, social worker, school, etc.
What is needed? No fresh food, but plenty of non-perishable foodstuffs (and in date for at least three months), such as tinned food, cereals, rice, pasta, sugar, biscuits, tea, coffee, long life drinks, etc (the list is endless!). And don't forget occasional toiletries such as soap, toothpaste and shampoo. PLEASE KEEP THE SUPPLIES COMING – THANK YOU.
HELPING HAND FOR STAR GAZERS AROUND YOULGRAVE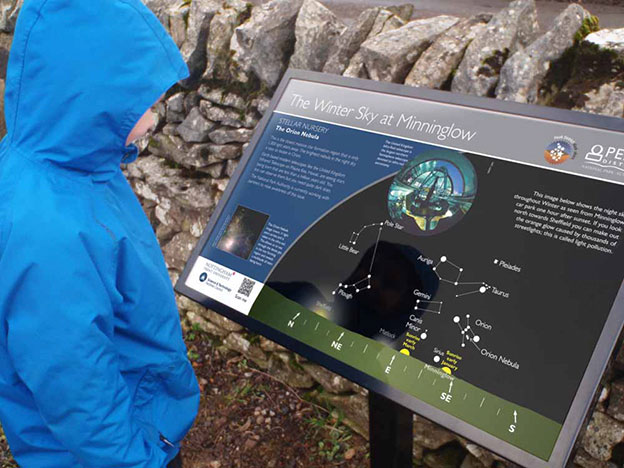 New information panels have been installed in locations near Youlgrave to give stargazers a better guide to the night sky. The Dark Sky panels, which will be changed seasonally, can be found close to Arbor Low stone circle and Minninglow burial mound, where the position of the stars seemed significant to our neolithic ancestors more than 4,000 years ago.
To help people appreciate the relation of these special sites to the stars, the panels are positioned at nearby car parks which are easily accessible and on clear nights provide good conditions for stargazing. The car parks are both beside the High Peak Trail at Parsley Hay, off the A515 near Hartington; and at Minninglow, off the A515 at Pikehall.
Interesting objects to look out for in the February southern night sky include the constellation Orion and planet Jupiter. Orion the hunter is easily recognisable by his belt and sword, a line of three stars with three stars that 'hang' beneath it, while Jupiter, the largest planet in our solar system, appears as a bright pink star to the left of Orion.
The panels were erected by the Peak District Dark Skies Group via the National Park Authority. The group includes professional and amateur astronomers with a keen interest in safeguarding the night skies in and surrounding the national park from inappropriate lighting. For more information visit www.peakdistrict.gov.uk/darkskies.