STOP PRESS: Alport Lane Playing Fields Sub-station
Western Power have had to undertake an emergency replacement of some failing equipment at the substation and as a consequence were digging up the area adjacent to the football pitch and breaking out concrete overnight on Thursday 15th March. The latest position is that this work will be continuinging over the weekend as more needs replacing than originally assessed. We are assured that owing to duplication in the system power will not go off unless something unplanned for occurs. The works could take up to two weeks as once the system becomes fully operational the substation will need rebuilding and in order to provide continuous protection to the live works operations will require safety structures putting in place. To try and limit disruption to activities on the field fencing and netting will be put in place on subsequent weekends. Western Power have apologised for any inconvenience but this work is essential to keep the substation operating.
For a full monthly digest of all the news from Alport, Middleton and Youlgrave see The Bugle, available in village shops and pubs and delivered to every local household. To read the latest issue click on the link below. For more back issues and special editions go to www.thebugle.org.uk.
END OF AN ERA AT YOULGRAVE WATERWORKS
Youlgrave Waterworks Ltd sees the end of an era at its next board meeting, when Roger Stead attends his final meeting as Company Secretary. Roger started with the Waterworks committee in November 1981 and has looked after its affairs through its ups and downs for 36 years. He considers his greatest achievement was the formation of the company Limited by Guarantee in 1996, which is the format it successfully continues in today with 12 volunteer Directors meeting monthly to keep the village constantly supplied.  He leaves Youlgrave Waterworks Ltd in a sound condition and the Directors take this opportunity to thank him for his many years of service and solid advice that will be missed. Roger's final meeting is in the Reading Room at 7.30pm Monday 19th February and he steps down as Company Secretary on 1st March.
COME AND CHEER ON YOUR LOCAL TEAM!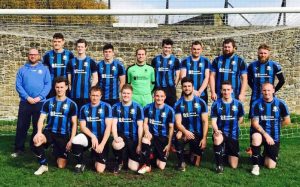 Youlgrave United Football Club was founded in 1886 and is currently one of the oldest amateur football clubs existing to date. The 2017/2018 season started with a boost, as new sponsorship and kit were provided by Renwick Stoneworks Ltd, based in Middleton. The company funded a new Puma strip with an Inter Milan-esque design. The lads are hoping the new kit will spur them on to gain promotion to the Hope Valley Premier League. The (very youthful) side play their home games at Alport Lane, Youlgrave, kicking off at 2pm, and are currently sitting a very respectable second in the Hope Valley 'A' Division. Fixtures are published in the Bull's Head and, in the future, on the Hollywell Lane notice board, so please come along and support us!
YOUNGS OF YOULGRAVE GETS DOWN TO BUSINESS
It's now a couple of months since Amy Young took over Youlgrave Post Office and General Stores and although much has happened, with new stock and fittings, longer opening hours and bright new signage, there are even more exciting developments in the pipeline.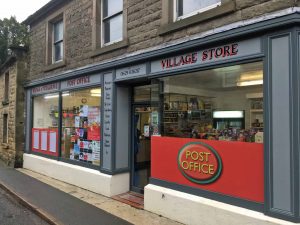 Central to the shop is, of course, the post office, but now the shop offers more newspapers and magazines, as well as cards and stationery. There's a wide range of confectionery, including jars of traditional sweets that are likely to stir fond memories from older residents as well as appeal to younger tastebuds. As the village off licence, there's a choice of wines, bottled beer, ciders and spirits, as well as a selection of dried foods and other useful household items.
"I always wanted to run a shop in the village," admits Amy, who has lived in Youlgrave all her life and is well known for her milk round. "We want this to be a true convenience store, open when people want it, so we've deliberately extended the hours so we open up as early as 6.30am and don't close till 8pm on weekday evenings." Together with her husband Paul, Amy has big plans for the shop, including new flooring and better shelving and lights, as well as extending the shop into the back rooms to increase the floor space and improve the all-round facilities.
"The reaction from local people has been wonderful and really supportive," says Amy. "We're also determined to have a successful working relationship with the Bingham's Village Shop so that the two businesses complement each other and both thrive. But we've also had great feedback from the pubs and holiday cottages, whose guests can now buy a paper and other essential everyday items."
Thanks to the Youngs, the fortunes of the local community are certainly looking brighter now that the future of the village post office has been secured. Both Amy and full time sub-postmistress Emma Wardle have been fully trained and across the counter offer a surprisingly diverse range of customer services. As well as ordering foreign currency and paying car tax, household bills and council tax, plus a very efficient laundry service, you can wire money electronically to locations around the world via MoneyGram, send parcels and packages, and perhaps best of all enjoy a wide range of banking services. This includes cash deposits and withdrawals on all major high street banks, as well as paying cheques in. "As banks continue to close their branches, most recently Lloyds in Bakewell," says Amy, "people will increasingly turn to post offices for this sort of hands-on service, and I'm delighted we can offer this at Youlgrave Post Office."
Together with Peak Feast and Youlgrave Village Shop, the refreshed and attractive Youlgrave Post Office (all three run by enterprising village families, of course) shows that perhaps the trend away from village shops towards large supermarkets is slowing up and there is, after all, a place for well-run, well-stocked local shops tailored to local needs. Youngs of Youlgrave looks forward to serving you!
Youngs of Youlgrave: Post Office and General Stores, tel 01629 636217. OPENING TIMES: Monday-Friday 6.30am-8pm, Saturday 6.30am-5.30pm, Sunday 7.30am-12.30pm
COMMUNITY SPIRIT SHINES THROUGH FOR PRE-SCHOOL
At the start of the summer it became clear that Youlgrave Pre-school was in urgent need of funding to stay open. Through various fundraising events and huge local support we are now more hopeful of its future. We would like to thank everyone for their generosity and support this summer, especially with the end-of-summer duck race. Particular mentions of thanks go to: Gulliver's Kingdom – raffle prize, Matlock Farm Park – raffle prize, Farmyard Inn – raffle prize and 'Sweets in a Jar', RR Motorcycles – sponsoring the duck race, Derbyshire Aggregates – restocking our sandpit, Youlgrave Cricket Club – generous donation AND Bull's Head pub – bric-a-brac stall.
As we are reliant on income via fundraising and donations more than ever, we hope you will continue to support future events. Many thanks from the Youlgrave Pre-school children, as well as all the staff and committee.
END OF AN ERA FOR PARKERS' SHOP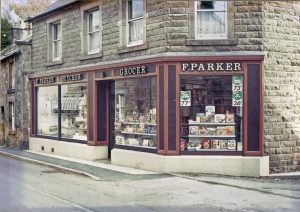 After half a century of running a butchers' shop and grocers in Youlgrave, the Parker family are finally hanging up their aprons. Andrew and Alison Parker have expressed their sincere thanks to all their customers and friends who they have served over the years.
Fred Parker (Andrew's father) arrived in Youlgrave in 1948 and worked as a partner with Mr Chapman until finally buying the property in 1958. It was then run as a butchers' shop until 2011, when Parkers Butchers became Youlgrave Post Office.
Andrew and Alison are looking forward to a long and happy retirement, but they say they will miss everyone very much. "We feel extremely privileged to live in this beautiful village, and with the people in it. We have gone through two tragedies in our married life and without the love and support of the people of this village we would have found it very hard to come through."
Andrew and Alison added: "We would like to thank Amy and Paul for securing the future of the Post Office and we wish them every success and happiness in their new venture."
NEW VILLAGE SHOP AND TEAROOMS OPEN FOR BUSINESS
After a lengthy refit and amid much anticipation, Youlgrave Village Shop has finally opened and already it's been busy with enthusiastic customers, not least for the new tearoom upstairs. The former Holland butchers has been entirely refurbished by new owners Lisa and John Bingham, who have also extended the shop by opening up rooms at the back and adding a tearoom and courtyard seating area.
The shop is open daily and sells a wide range of fresh, tinned and frozen food, including take-away snacks and hot drinks, not to mention confectionery, toiletries, cleaning materials and a whole host of other items. However, the inspiration to take on the premises was partly in order to sell the Binghams' own beef and lamb, as the family farms over 700 acres in Youlgrave and Middleton. Meat from the home-reared, native breeds is cured in a traditional manner for greater tenderness and is on sale from the shop.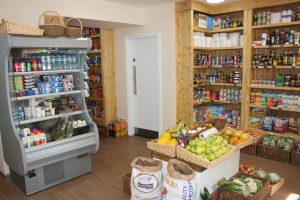 "We'd talked about opening a shop before," says Lisa, "and although we have a young family, with three girls at Youlgrave Primary School, plus a busy farming business, this was too good an opportunity not to miss." As Holland butchers, David Figg ran the former shop for four decades until he retired at the end of 2015, and Lisa says he has been hugely supportive of their new venture. "We're very grateful for all his advice and encouragement," she says, "but we also did plenty of homework ourselves by visiting other village shops to see what works and what doesn't. We're trying to make sure we offer a wide range of products, reasonably priced and from high quality through to more basic items, so that there's something for everyone – local people and visitors alike."
Lisa has been keeping a note of what people ask for that's not in stock and then trying to track it down. There have been some slightly unusual requests, including goat's milk, pickled gherkins, and horse food. Like the village pubs, garage, Peak Feast and other local businesses, Youlgrave Village Shop has quickly turned into a significant local employer. In addition to Lisa and John, Jade Stacey works there full time, with part time help from Leanne Upton, Marion Bacon, Andrea Willans, Amy Bingham, Ella Walker, Isobel Lovell, Amy Shimwell and Oliver Brocklehurst.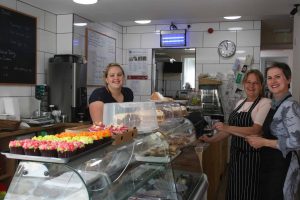 Lisa says that the feedback from customers has been really positive, kind and encouraging. "We've already had quite a few older residents who say that there's now no need for them to leave Youlgrave to shop in Bakewell, which is very gratifying. Some are even coming here for a cooked breakfast or lunch, which is really nice and sociable."  Indeed, 'Amy's Tearoom' is proving very popular among local people as much as visitors, with members of a village book group, Youlgrave WI and mother & toddler group all meeting in the rooms upstairs. In addition, there's also outside courtyard seating at the back of the shop. "We want to work in tandem with other village businesses," says Amy, "so that we support each other. We are already ordering from Peak Feast and look forward to a good working relationship with the future management of Youlgrave Post Office, so that our businesses complement each other for the long term good of the village."
CELEBRATING YOULGRAVE WOMEN – YOUNG AND OLD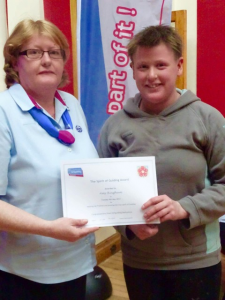 Showing spirit and inspiring others: In May I had the pleasure and privilege of accompanying Amy Bingham to the Guides' County Review at Chatsworth, where Amy was awarded Derbyshire's Spirit Of Guiding Award (see picture). This is for girls or young women aged between 5-26 who have shown that they have kept their promise and stayed true to the spirit of Guiding. Amy joined the Guiding movement aged 5 as a Rainbow and has continued through Brownies and on to Guides. She also now helps with Rainbows as a Young Leader. As many of you know, Amy has had to overcome poor health since she was born, but despite this she has always joined in with all the activities, including camping and holidays (she will be we on our adventurous unit trip to Romania this summer). Amy is very popular and joins in with enthusiasm and a smile. At times we all forget her health issues, since she just 'gets on with it'. She is an inspiration to us all and an asset to our unit. We are all very proud of her achievement – well done, Amy!  Penny McCloy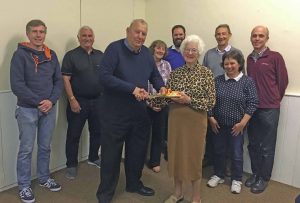 Three decades of service: Last month Lillian Clark stepped down after 30 years as a Youlgrave Parish Councillor. At her final meeting Councillors presented her with gifts and thanked her for her remarkable contribution (see picture). Outgoing Chairman Brian Wardle said her selfless devotion to her community was outstanding and she was a role model for us all.
SHEEP KILLED BY DOG AT ALPORT
Four of our sheep were attacked by a dog in a field at Alport on Good Friday. One sheep was found dead in the field, another sheep had to be put down due to the extent of its injuries and two other sheep have leg injuries which we hope they will eventually recover from. The canine bite marks in their back legs are very clear to see. I hope everyone can see that this is a brutal and needless way for a sheep to die. These were fit young sheep, which were not in lamb and have clearly been chased around the field until the dog has sunk its teeth into one back leg and got the sheep down.
The biggest misconception that people have is that their cuddly, friendly dog could not possibly do this sort of act – but they are wrong. All dogs have the capacity to kill or harm, as this is their natural instinct, particularly if they team up with another stray dog. We have had reports of a dog running alone in Alport that day. Whilst we have no evidence that this was the dog responsible, it should not have been running around unattended. It is also particularly important that dogs are kept on leads when they are walking through fields with sheep, even more so at this time of year when there are so many young lambs in the fields. The lambs easily get separated from their mothers when upset by a dog and then very often don't ever get back to their mother.
I would also like to take this opportunity to ask people to stick to the official footpaths. We are very fortunate to have so many public footpaths in and around our village. Most of these paths originated as paths for people to walk to work in the local mines or paths to walk to neighbouring settlements. However, a small but significant amount of local people feel it is OK to make up their own routes, to suit themselves. If a field has a footpath across it then that is the only path you should be using. It does not mean that you are free to walk your dog in a circle around that field – this is trespass. Sticking to the correct path also sets a good example for visitors to follow.
It is also common for people to make up their own route to avoid rough or muddy sections of path, sometimes using entirely different fields. The National Park Rangers are very supportive of the 'mud' issue and are rightly in agreement that walkers must dress according to the conditions that they are likely to meet on a particular path, for instance in wellies or walking boots if you know the route is particularly muddy. Mud does not constitute an obstruction. A footpath gives us the great privilege to walk on someone else's land, it does not give us the right to demand that this path is paved and mud free. Please be considerate – thank you.
Nicola Walker
LENGTHY ROAD CLOSURE BETWEEN YOULGRAVE AND A6 TO LAST MUCH OF APRIL
The closure of the B5056 near Hawley's Bridge is now likely to last far longer than the anticipated five weeks, so that Youlgrave's eastern link to the A6 may well be out of action for most of April. The road was shut on  7 March for major repairs to the retaining wall near Bowers Hall. However, the Bugle understands that for almost the first three weeks after the closure started, work to rebuild the carriageway was delayed as Severn Trent needed to divert a major water main under the road.
An engineer from Derbyshire County Council's Highways team explained that the high pressure of the 'trunk main' required the making and fitting of bespoke new valves, in order to move the mains to a safer line along the inside of the road and away from the vulnerable outer edge. This set the project back at least a fortnight. The work on the B5056 is due to end by 12 April, but if as seems likely the closure is extended there are concerns that it may then coincide with two other impending road closures that are also likely to affect Youlgrave residents heading out of the area:
The closure of Main Road (B5057) at Darley Bridge for gas main renewal work, 13-23 April
The closure of the Via Gellia road (A5012) for work on a retaining wall due to the threat of a landslip, 8 May to 26 June.
Separately, Youlgrave Parish Council has been pressing Derbyshire County Council to repair the surface of Conksbury Lane and Back Lane, especially around Conksbury Bridge, which are seeing a much more intensive use by traffic due to the current road closure. There has already been one accident, near Noton Barn Farm, and as more heavy vehicles use the route fears have been expressed for the historic structure of Conksbury Bridge itself, which is subject to a 7.5 tonne weight restriction. Derbyshire County Council has already patched a few of the worst affected areas, but they say they will be regularly monitoring road conditions and taking remedial action where necessary. Anyone needing further information should ring Call Derbyshire 01629 533190.
LATEST NEWS FROM DCC (3 April): "As you will most probably be aware the works to repair the Highway Retaining Wall at Bowers Hall have been delayed, because of the need for Severn Trent Water Authority to divert their aged high pressure water main. The resultant effect of this is that we (Derbyshire County Council) have not been able to start the wall repair until this morning. As I know  you will also be aware there is a planned Road Closure for Gas works at Darley Bridge, all road closures are disruptive and are a last resort, obviously concurrent road closures compound this problem but Highway Safety is paramount and must be maintained. This said we have looked at our construction methodology and have been able to refine it such that the road closure at Bowers Hall can be lifted for the Easter Holidays, albeit the works will still need to be under traffic light control, this then avoids the two concurrent road closures. Unfortunately we will need to reinstate the Road Closure once the Darley Bridge works are finished to complete the construction of the rest of the highway wall. (Exact dates to be confirmed subject to on site progress.)"
Youlgreave to Ypres Stained Glass Design competition launched 
To commemorate the centenary of The Great War, the Youlgreave 1914-1918 Community Group is asking members of the community to help design a stained glass 2D or 3D piece to reflect the unique link between Youlgreave and Ypres, represented by the memorial window in All Saints' Church. It will be formed in two sections, one of which will be presented to the people of Ypres as a lasting memorial to those who served in WW1. The competition is for anyone and everyone (of all ages) residing in Youlgreave, Middleton, Alport, Harthill, Birchover and Stanton-in-Peak. It starts on 1 January 1st 2017 and final entries must be received by 7 May 2017. The application criteria are as follows:
DESIGN: To be a 2D or 3D piece, incorporating two halves, which interchange to form one whole, and each of which may also be displayed separately All Saints' Church, Youlgreave, and Ypres Cathedral.
SIZE: Maximum of 1 metre x 1 metre x 1 metre.
MATERIAL: Stained glass, lead, wood, metal, local natural or other practical lasting material.
EVENTUAL POSITION: Expected to stand on a plinth of sorts (which may or may not be incorporated into the design). Natural light from above. This does not exclude extra added lighting from other angles.
COLOUR: No restriction
EXPLANATION: Please include a simple explanation of the design.
COMMITTEE: A representative committee will be selected to choose the final design which will be completed ready to be put in place in August 2018. The finished product may incorporate all or part of the chosen design/s. Entrants are welcome to submit a general or abstract design idea which can be converted to stained glass, rather than a restricted idea due to lack of knowledge of the materials or process.
DELIVERY: Please leave your entry and details in Youlgreave at one of the following: Youlgreave Post Office;  Peak Feast, Moor Lane; 5 Grove Place; or at Brambleside, Brookleton.
Women's Section raises Standard for last time
On Saturday 24 September the Youlgrave Branch of the Women's Section of the Royal British Legion  hosted the County Conference and Purse Presentation ceremony in the Village Hall. The local ladies started the proceedings by providing a wonderful lunch which was enjoyed by all. After lunch the business meeting then took place, which was followed by the Purse Presentation to the County Vice President Mr Bernard Page MBE. Mr Page was then invited to present awards of Silver Cups and certificates to several members of other Branches, including four certificates handed out to Youlgrave members. The proceedings concluded with the Parade of the County Standard and other British Standards. The National Anthem was sung by the members and the Act of Homage was observed by Mrs Angela Swift, County Chair of the Women's Section, who then closed the meeting.
Sadly, following on from the Presentation Ceremony on Saturday, the Women's Section of the Royal British Legion Youlgrave Branch closed and was disbanded. They laid their Standard 'Up' in the Parish Church on Sunday at the evening Service. The Standard Bearer, Mrs Pat Macleod, was escorted by Mrs Joan Roper and Mrs Jean Wragg to the altar. The Reverend Louise Petheram was charged with its safe keeping. The Standard was then laid on the altar for the duration of the Service which was attended by nine past members of the Branch and Mrs Angela Swift, County Chair lady. After the Service the Standard was placed in its permanent position in Church.
David Camm
Funding success for new fitness equipment
Youlgrave Parish Council has been successful with its bid for £10,000 for a 'fitness for all' project for the QEII Alport Lane Playing Fields. The grant from Awards for All will allow the purchase and installation of nine pieces of exercise equipment, which will be placed in groups of three at intervals around the playing field. The items have been chosen to ensure adults of all ages will find something to have a go on, and the pieces grouped to encourage you to bring a friend. There will be further news on the fitness trail, including more detail about the actual equipment and how to use them, in a future issue of the Bugle.
The September Parish Council  meeting also discussed maintenance of the existing play equipment, an issue over blocking the highway and gave its support to two planning applications. It also received positive pre-planning advice from the Peak District National Park Authority, which enables us to formally engage a designer to draw up plans and apply for planning permission to relocate the toilet block at Coldwell End and improve the car parking facilities. Council next meets on Tuesday 18 October at the Village Hall Committee Room (7.15pm) – all welcome.
A second helping of cake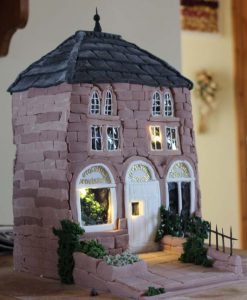 Pictured right is Lynn Nolan's incredibly detailed (and eminently edible) 'Co-op cake', based on what is now the Youth Hostel. The 16 stunning creations of the cake village are nearing completion and will be shortly on display in All Saints Church. Visitors will be able to see lit cottages, a spectacular windowed Church, even the pies, buns and cheeses in The Bakery in hand-crafted detail, and tiny lifelike sausages and hams hang in the Butcher's shop. Look out for this superb display in October and please come and donate towards the urgent Roof Appeal. Stewards  will be required to assist during the display period (contact Barbara on 636601 if you can help), while Lynn, the village cake creator, can be contacted on lynnnolan13@live.co.uk.
Eric's long service to the Parish Council
After 19 years as a Parish Councillor for Youlgrave, Eric Goodwin has stepped down. As a token of its gratitude for his long and active service to the community, the Parish Council presented him with a commemorative tankard. Eric, born and bred in Youlgrave, was given the tankard by Cllr Lillian Clark, who like Eric has served the Parish Council for several decades. Councillors wishes him a long and relaxed retirement.
Youlgrave Horticultural Show 2016 cancelled
Unfortunately due to a decline in members on the Horticultural Society, the increase in costs of running the show and other circumstances, Youlgrave Horticultural Society has sadly announced there will be no Village Horticultural Show this year.
A lot of work goes into the organisation of the show from printing, sourcing judges, setting up and taking down the tables and stage along with collecting the entries, handing out the prize money and trophies and of course the sale at the end. However, if anyone would like to revitalise the show with fresh ideas to rejuvenate this long tradition, the existing members of the society are more than willing to help and offer advice in any way they can. Over the last few years the craft and children's sections have grown from strength to strength, but unfortunately the vegetable and flower entries have slowly decreased. If anyone wishes to contact the society with offers of taking over the show, please contact Sandra Harrop on 01629 630003 or Lesley Toyne on 01629 636484.